Richard Madeley and Judy Finnigan rule out TV comeback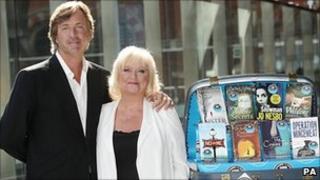 Presenters Richard Madeley and Judy Finnigan have categorically ruled out a return to daytime TV.
The couple, who worked together for 21 years on shows like ITV's This Morning, said they had no plans to come back to television - together or apart.
"I've had two propositions in the last year to go back and do something on my own, but the answer is an absolute no," Madeley said.
Finnigan added she had no immediate plans to return to broadcasting at all.
'Set free'
Madeley, who has been presenting a Radio 2 show and will appear as a subject on Who Do You Think You Are, said his wife had "pulled back from broadcasting completely for the time being".
He added: "Some people come up to us and ask whether we miss doing daytime television.
"But I have to say 'not in the slightest'. I'd say the last year professionally has been the most enjoyable I can remember. It's been like being set free."
Finnigan said that the broadcasting environment had changed since their heyday, and that producers were now "frightened about taking risks".
"I don't think the kind of shows that we made for This Morning and Channel 4 are possible anymore because it cost a lot of money," Madeley said.
"One of the reasons we decided to leave Channel 4 is [that] we could see the budgets would have to come down - and to make a good show it costs money.
"And that wasn't our wages, that money went on screen - on high quality videos, on bringing guests over the Atlantic, on high production values in studio and a big team.
"The money isn't there anymore. They have to make it on the cheap and you don't get the quality that we were able to deliver."
The duo shot to fame in 1988, broadcasting daytime programme This Morning from Liverpool, two years after they married.
They were last seen on digital channel Watch in 2009, where their audience dropped as low as 8,000.
The couple have now turned their attention to their Book Club, which was launched on Wednesday.