Juliette Binoche dismisses Gerard Depardieu slur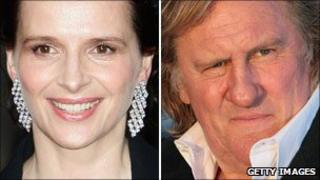 Oscar-winner Juliette Binoche has hit back at the "violence" of criticism by fellow French actor Gerard Depardieu who said she "is nothing".
Depardieu, 61, said in an interview with Austrian magazine Profil: "Please can you explain to me what the mystery of Juliette Binoche is meant to be?"
Speaking to BBC Radio 4's Front Row programme, Binoche said she was "surprised" by his outburst.
"I don't know him and I don't know what I did to him," she said.
Depardieu said in the interview that he would "really like to know why she has been so esteemed for so many years".
"She has nothing - absolutely nothing."
Comparing her to fellow French actresses Isabelle Adjani and Fanny Ardant, he said: "What has she ever had going for her?"
Responding to his comments, Binoche, 46, told the BBC's Mark Lawson: "I understand you don't have to like everyone and you dislike someone's work. But I don't understand the violence, in a way.
"But I think it has to do with himself - there's something going on."
She said they had once had dinner together and he told her: "Oh, you always do beautiful films."
Binoche said: "I didn't have any answers to that because I didn't completely understand what he meant by that.
"And then, after that, I thought, 'ah so it means that - are you supposed to do not-beautiful films'?"
She added: "I provoked him without knowing I provoked him, I think."
'Amazing producer'
Meanwhile, speaking to 5 live on Monday, Binoche told the BBC's Colin Paterson she had turned down director Steven Spielberg for three films - Indiana Jones and the Last Crusade, Jurassic Park and Schindler's List.
"I think he's an amazing producer - he made major films so I would love to work with him once or twice.
"But he's more interested in men, I think, more than in women.
"[With] the feminine world, you have to have some more feminine inspiration and heart, somehow."
Binoche - whose film Certified Copy is out on Friday - won the best supporting actress Oscar in 1997 for The English Patient.