Fashion photographer Corinne Day dies aged 48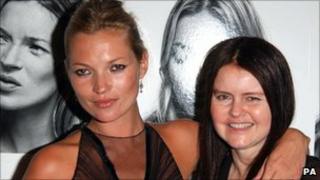 Photographer Corinne Day, best known for shooting supermodel Kate Moss at the beginning of her career, has died at the age of 48.
A statement on her website said she passed away "peacefully at home, after a long illness".
Day's 1993 photos of Moss posing suggestively were criticised and prompted the "heroin chic" movement.
The self-taught photographer has been exhibited at the National Portrait Gallery and the Tate Modern.
She was also regularly commissioned by British, Italian and Japanese Vogue.
At the time of the controversial pictures of a young Moss in her underwear, Day's work was condemned for capturing the star looking gaunt.
Marcelle D'Argy Smith, then editor of Cosmopolitan magazine, said: "The pictures are hideous and tragic. I believe they can only appeal to the paedophile market."
The New York Times described Moss' look as "very young and very dead".
Several years later, US president Bill Clinton referred to the genre of photos Day had become known for, saying that "fashion photos in the last few years have made heroin addiction seem glamorous and sexy and cool".