Hollywood turns 'edgy' town into Jack Kerouac country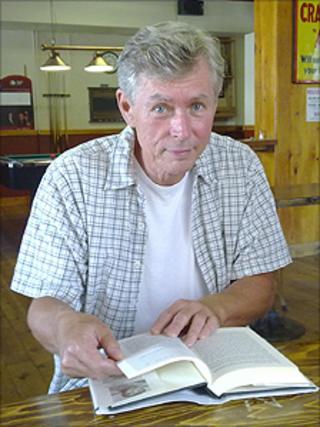 Francis Ford Coppola and his producers faced a momentous task when they decided to film Jack Kerouac's On the Road.
The challenge of bringing this Beat Generation-defining classic to the big screen fell to Motorcycle Diaries director Walter Salles.
Due for release in 2011, the trans-American tale is being shot mostly in Montreal and US and South American locations, and features stars including Kristen Stewart and Sam Riley.
But producers were still struggling to find an authentic location which evoked the story's working class, hard-drinking setting of late 1940s Denver.
Kerouac describes his first impressions of Denver: "There was smoke, smokestacks, railyards, redbrick buildings and the distant downtown graystone buildings."
Enter film location newcomer Hull, Quebec, part of the city of Gatineau which sits across the Ottawa River from Canada's parliament buildings in Ottawa.
Roch Brunette, of the Ottawa-Gatineau Film Corporation, guided the production team to Hull, a student drinking haunt where government offices rub shoulders with sex shops and disused mills.
"The neighbourhood is edgy, but there are the rougher neighbourhoods," he says of Hull - pronounced "'Ull" by its local French-Canadian population.
Celebrity spotting
Rob Holton, a gravelly-voiced English Professor at Ottawa's Carleton University, says it's hugely appropriate that a film about Kerouac - born Jean-Louis Kerouac to a working-class French Canadian family in the US - be made in a French-Canadian setting.
"The thing that attracted Kerouac to Denver was that it was skid row. It was that rough low-end side of Denver which attracted him.
"It was a hard-working town. Hull's tradition is that it is a hard-working town. That traditional working class charm would have attracted Kerouac to that neighbourhood," says the Kerouac scholar.
"Certain streets on the surface retain the traditional working class neighbourhoods and character quite unchanged from that period," he adds.
The facades of 1920s buildings and restaurants have been madeover to resemble 1940s Denver for one of the film's backdrops.
Colourful Colorado-plated vintage cars line the streets. In the distance, a camera crew is preparing a tracking shot of a street. A crowd gathers hoping to meet celebrities - or even be discovered.
Hollywood has arrived in what the local media has dubbed "Hullywood."
Student Ashley Beggan-Hanratty cannot contain her excitement at the prospect of spotting a celebrity.
Uncomfortable with fame
"I love Kristen Stewart. The Twilight Movies. Oh my God! She is coming to Eddy Street! I need to check this out!" she shrieked, also hoping for a glimpse of Spider-Man actress Kirsten Dunst.
Heather Mitchell, dressed specially in a straw hat and ribbon, admitted to "sneaking around the corner" during breaks from her work as a civil servant.
She jokingly said that she hoped Salles would drive by in his limousine, notice her and put her in his movie.
Marc Gravelle, owner of Milles et Unes Frites (1001 French Fries) was delighted that producers selected his chip shop for a Hollywood makeover to appear in the film, if only for a few seconds as part of a backdrop.
He enjoyed doing business with Hollywood - admitting to having been "well compensated" - but he said winning the regional french fry competition was a bigger honour.
At 8am the next day, at the Taverne Montcalm, on Rue Montcalm - close to the previous day's filming - designers are working quickly to transform the tavern into a Denver bar called The Red Shade.
Charles Seguin, youthful enthusiastic co-owner with his father, Jacques and brother Philippe, were lucky.
The On the Road team thought the bar was a goldmine with its old hardwood floors, vintage bar, pool table and paraphernalia dating back decades - there was little work for them to do.
They wanted to use it for for key scenes involving leads actors Garret Hedlund and Sam Riley.
Charles admits that initially the family was sceptical and wondered if the Hollywood interest was "for real". While he was quickly sold on the idea, his father was not. And his word was final.
The Taverne, little changed since it opened for business in the 1940s, has been in the family since 1954.
Jacques didn't want to upset his loyal clientele, local working class men. Repeated visits from the production team didn't quite convince him.
The former mayor of Hull was eventually drafted in, and over a plate of beans, Mr Seguin was reassured that Hollywood would be good for his business.
Charles Seguin admits they have been overwhelmed.
"It's bigger than we ever thought. We thought it would just be a Montreal movie, just a small guy," he says. "I'm still on a high!"
Kerouac was known to be uncomfortable with his fame and may have had second thoughts about his book being given the Hollywood treatment.
Rob Holton says: "Kerouac would have had little time for the Hollywood people and all the time in the world for the Montcalm's regulars."