Adrian Chiles 'gutted' over BBC spat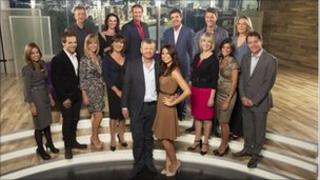 Presenter Adrian Chiles has admitted both he and co-host Christine Bleakley were "gutted" over the way they left the BBC's The One Show.
Chiles announced his departure in April following the news that Chris Evans would take his place on Fridays.
Bleakley followed suit in June, and the pair will now front ITV's new breakfast show Daybreak.
Speaking at the show's press launch, Chiles called the end of his 17-year BBC tenure "an awful, awful business".
"We were both very happy to stay," he said.
"Nothing needed to change - but obviously change was suggested on The One Show I couldn't live with and that's why I left."
"We were both gutted the way things started to unfold," he continued.
'Few enemies'
The 43-year-old, who has already been seen on ITV's World Cup coverage, said he and his co-host had been put under "intolerable pressure" while negotiating their future.
"We were both criticised for the way we conducted ourselves, but I challenge anyone who is in that position to not end up pissing off one or more people," he said.
"It was such a long, stressful time. You've got no idea.
"The bottom line is it's your livelihood is on the line... and something that was very precious to us both - The One Show - had been basically taken away from us to a lesser or greater extent."
Bleakley, 31, defected to ITV several months after Chiles, having released a statement saying she was "torn" over competing offers from both the two broadcasters.
Speaking on Tuesday, she said the statement had been made public to "combat some of the nonsense that was happening".
She added: "Suddenly lots of people want to talk and I was always brought up to think silence is golden and there's a dignity in keeping your mouth shut about certain things, but at that stage I was being hurried into making a big decision.
"Ultimately no-one's died, this is not life or death."
The star admitted she decided to move to ITV because she "missed" working with Chiles.
Asked about his current relations with the BBC, Chiles characterised them as "fine".
He added: "When you think of the BBC, you think of all the bosses, but I think of all the people I've worked with over the years and I see them all all the time anyway.
"We've got very, very few enemies there and they'll move on before long."
Daybreak launches on Monday with a new set and team. Although nervous, Chiles and Bleakley say they will not pay attention to critics.
"I don't read any of it," Chiles said. "I'm told I got some good press about the football, but I swear to you I've not read a single review."
"If you don't read the good ones then I think I've got every right not to read the bad ones - but I can't just read the good ones and avoid the bad ones."