David Hasselhoff to compete in Dancing With The Stars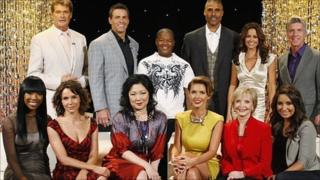 Actor David Hasselhoff, singer Michael Bolton and actress Jennifer Grey will take part in the new series of Dancing With The Stars.
Bristol Palin, the daughter of former US vice-presidential hopeful Sarah, will also compete, along with Audrina Patridge from MTV show The Hills.
The dance contest was the second-biggest show on US TV this spring, behind American Idol.
Pussycat Dolls singer Nicole Scherzinger won the most recent series.
"I'm happy to be here - my two daughters love this show, and they convinced me," Hasselhoff said.
Grey, who appeared in 1987 movie Dirty Dancing with Patrick Swayze, said she doubted her previous dancefloor experience would give her an advantage.
She said: "I'm 50. It's been a lot of years since then."
'Hard work'
Palin, 19, who gave birth to her first child in 2008, said her mother was "excited" she was participating in the show.
"She knows this is going to be hard work," she added.
The teenager has become a regular face on US TV and magazines, while her ex-fiance Levi Johnston has also appeared on various TV shows.
The line-up for the new series also includes talk show host Florence Henderson, who played Carol Brady in The Brady Bunch, and reality TV star Mike Sorrentino.
Former NFL quarterback Kurt Warner, retired basketball player Rick Fox, comedian Margaret Cho and US actor Kyle Massey from Disney show Cory in the House are also participating.
The new series kicks off in the US on 20 September and will be shown in the UK on Watch from 23 September.