Cinema attendance is down in US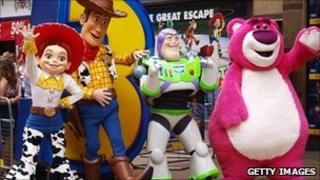 Box office receipts in the US rose by $100m (£64.9m) this summer, despite the lowest attendance in five years, figures have shown.
Movie website Hollywood.com said the actual number of tickets sold was expected to be 552m - the lowest since 2005, when the figure was 563.2m.
The drop in attendance is thought to be due to a steep rise in ticket prices, mainly for 3D screenings.
A similar pattern has been recorded in UK cinemas, too.
The cost of an average US cinema ticket rose by 5% over the last 12 months, according to The National Association of Theatre Owners.
Cinema-goers now pay an average of $7.88 (£5.10) per ticket, a rise of 38 cents (25 pence) from 2009.
3D movies such as Toy Story 3, Clash Of The Titans and Shrek Forever After are largely responsible, with cinemas charging several dollars more than for a regular 2D film.
Box office analyst Paul Dergarabedian said the higher revenue was a "shallow victory".
He added: "You want to see attendance go up every year, not down."
Toy Story was the only film this summer to top the $400 million (£259 million) mark at the box office.
Iron Man 2 shot past $300 million (£194 million) while Inception, Shrek Forever After and Despicable Me topped $200 million (£129 million).
There were some releases which failed to live up to the hype of summer blockbuster season - including Sex and the City 2, The Prince of Persia: The Sands of Time and The Sorcerer's Apprentice.
"Audiences were underwhelmed, and they voted with their absence," Mr Dergarabedian said.
"If you asked most people what they thought of the quality of the movies, it's kind of a so-so summer."