Isabella Rossellini to head Berlin Film Festival jury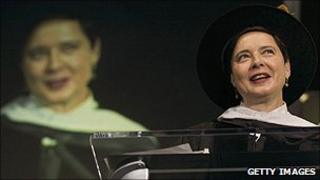 Actress and film-maker Isabella Rossellini to chair the jury at next year's Berlin Film Festival, organisers have announced.
The 58-year-old, whose films include Blue Velvet and Wild At Heart, showcased her directorial debut at the German event in 2008.
Festival director Dieter Kosslick called her "a multi-faceted, creative film artist".
The 2011 festival is due to take place from February 10-20.
Other members of the panel, who will decide prizes including the main Golden Bear, have yet to be announced.
This year's judging panel was led by film director Werner Herzog.
Rossellin, the daughter of Italian film director Roberto Rossellini and movie star Ingrid Bergman, is the director of Green Porno - a series of short films on animal sexual behaviour.