Konnie Huq and Charlie Brooker marry in Las Vegas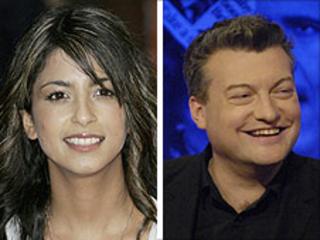 TV presenters Konnie Huq and Charlie Brooker have married in a ceremony in Las Vegas, her spokeswoman has confirmed.
She said that the pair, who are in the US city by themselves, are "blissfully happy" and gave no further details.
Huq, 35, is presenter of The Xtra Factor, while 39-year-old Brooker is best known for fronting Screenwipe.
The pair dated in secret for several months and their engagement was confirmed in June.
Huq said in an interview before the relationship was revealed that she was dating a TV screenwriter called Charlie and that "he is definitely a keeper".
"Is he 'the one?' Yes, but then I say that about everyone I date. Two weeks later, I've changed my mind," added the former Blue Peter presenter.
Huq was a member of the long-running show's presenting team from 1997-2008 and appeared on Brooker's Screenwipe last year.
Brooker is best known on-screen for his acerbic and satirical critiques of the media.
He also wrote the zombie horror TV series Dead Set and is a columnist for The Guardian newspaper.
Brooker's BBC Four show Newswipe was nominated for best entertainment programme at the Bafta TV Awards earlier this year, but lost out to Britain's Got Talent.