Emmy nominees celebrate at LA tea party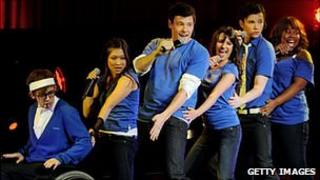 The British Academy of Film and Television Arts has been saluting this year's nominees for US TV's most prestigious honours, the Emmys, at its annual garden party in Los Angeles.
The afternoon get together was an opportunity for British and American TV stars and executives to relax, gossip and schmooze before the big night.
"Just having a little tea and luncheon is really delightful," said Andrea Bowen, who plays Julie Mayer on Desperate Housewives.
"During Emmys week, it's nice to have an event that's a little lower key, when everything is so manic," she said.
"It's a celebration of all of the Emmy nominees," said Nigel Lythgoe, BAFTA-LA's chairman and party host.
"The Television Academy here in Los Angeles is going to reward a select few with those beautiful golden statues - but before then we're selecting all of them and giving them a nice cup of tea."
Lythgoe, who recently returned to American Idol as the show's executive producer, said he was still involved in negotiations over the show's judging panel, following the departure of Simon Cowell and Ellen Degeneres.
But Lythgoe, known during his stint as a judge on Pop Stars as Nasty Nigel, ruled himself out as a member of the panel.
"It isn't within the realms of possibility," he said.
"I've always said I don't want to follow Sean Connery into the part of James Bond. I don't think that we want to replace Simon Cowell with someone similar to Simon Cowell - it doesn't need another caustic Brit."
Musical comedy
Lythgoe acknowledged that after a decade on the air, American Idol needed "revamping" but he added that as long as the show "continues to make dreams come true" it would continue to be successful.
Lythgoe said he was heartened to see a range of new shows, such as Glee, in contention at the Emmys.
The high school musical series has 19 nominations, including one for best comedy.
"It's good to see comedy coming back again - certainly the musical comedy of Glee is fabulous. The comedy of Modern Family is tremendous and I think those two are going to be fighting it out."
Modern Family, which revolves around three interrelated families, earned 14 Emmy nominations.
"It's been a pretty mind-blowing year for us," said Steven Levitan, the co-creator of Modern Family.
"We are certainly enjoying the ride."
For the past three years, the comedy category has been won by 30 Rock, which is again in contention. It is likely to be a close race.
"We still feel like outsiders," said Dante Di Loreto, executive producer of Glee.
"It wasn't that long ago that people thought it was a pretty crazy idea - luckily a lot of people saw the potential for the show," he added.
Glee's second series will include a guest appearance by Britney Spears, who recently filmed her scenes with the cast.
"It was fantastic, we were so happy she was there and the cast was in awe," said Mr Di Loreto.
"There are going to be some great surprises in that episode - you're going to see some people singing and dancing that you've never seen singing and dancing before, and they are amazing."
Drama
Mad Men, the best drama at the Emmys for the past two years, is a favourite to win the title again.
"It's all down to the writing," said Bryan Batt - who plays Salvatore Romano on the period drama.
"We do not deviate from one syllable on the script, it's that well written. It also leaves an intelligent audience member room to think.
"You're allowed to interpret the script as you watch the show."
The Emmys will be handed out on Sunday evening in Los Angeles.
Iqbal Theba who plays Principal Figgins on Glee says he's trying not to think about it too much.
"I'll go, I'll have fun," he says.
"We've been nominated for 19 Emmys, we've won Golden Globes, Screen Actor's Guild Awards, we've been to the White House, you just name it. So I think we can relax and just enjoy it, rather than worrying about whether we're going to win or not."