Julio Iglesias marries in secret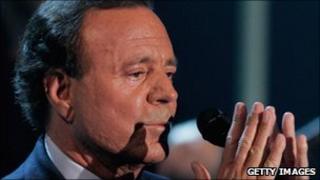 Spanish singer Julio Iglesias has married Dutch model Miranda Rijnsburger, his partner of 20 years.
The 66-year-old singer, whose hits include To All The Girls I've Loved Before, announced the marriage in a statement to Spanish newspapers.
The ceremony, held in Marbella, was attended by two witnesses and the couple's five children.
Iglesias was previously married to Isabel Preysler, with whom he had three children - including singer Enrique.
The Rev Roberto Rojo Aguado told the Associated Press news agency the couple were married on Tuesday.