Wyclef Jean criticises Haitian president in song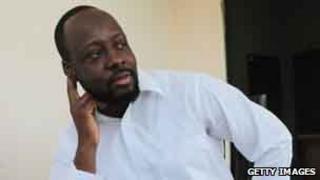 Haitian hip-hop star Wyclef Jean has released a song to local radio stations criticising officials who have banned him from running for president.
The track, performed in Haitian Creole, translates as Jail for the Provisional Electoral Council and accuses President Rene Preval of engineering the singer's disqualification from the running.
"It's not Wyclef that you have expelled, it is the youth you have denied," the 40-year-old sings.
Mr Preval has not commented.
His spokesman said he had been told of the song's existence.
Jean, who has also posted the song on Twitter, sings: "I know all the cards are in your hands. I voted for you to be president in 2006, why today did you reject my candidacy?"
Residency requirement
Last week, the Haitian constitution ruled Jean and 14 other contenders out.
The rules require candidates to have lived in the country for five years prior to an election.
Jean lives in the US, but says he has been a roving ambassador for Haiti.
He argues that this exempts him from the residency requirement.
The star appealed against the ruling, but an electoral council lawyer said the decision was final.
Haiti is still recovering from January's earthquake which killed an estimated 230,000 people and left more than one million homeless.