Josie walks out of Ultimate Big Brother after two days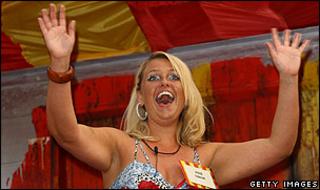 Big Brother 11 winner Josie Gibson has walked out of Ultimate Big Brother, two days into the show's run.
The 25-year-old left via the fire exit in the garden after deciding the experience was too overwhelming.
She was met by her former housemate and love interest John James, who happened to be visiting the compound.
Josie apologised to producers saying: "They're all really nice people don't get me wrong. I'm normal, I'm not a celebrity, I couldn't handle it."
Still wearing her microphone, she was overheard telling John James: "Thank God you were here when I came out. I can't handle it no more, honestly. I'm so glad you were just there then."
The couple kissed as Josie told producers that she struggled to cope with her new housemates.
Fellow Ultimate Big Brother housemate Brian Dowling was first to notice that Josie had gone, as most of the other housemates were in the living room.
They all rushed outside and tried to call her back, but she was already on her way out.
New contestants
Meanwhile, the housemates have nominated Coolio and John McCririck for eviction on Friday.
And Channel 4 revealed that two new contestants would join Ultimate Big Brother the same day.
Series five contestants Michelle Bass and Victor Ebuwa will return to the hidden Big Brother bedsit where they will be able to spy on the other housemates and play secret pranks on them.
The pair will live in the bedsit for a few days until they both enter the house as fully-fledged housemates.