Actress Zsa Zsa Gabor refuses surgery and returns home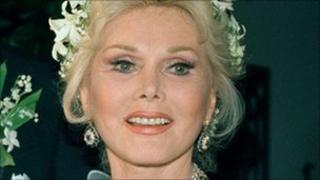 Actress Zsa Zsa Gabor has been discharged from hospital after refusing to have a liver operation and deciding to spend her final days at home.
"She wanted to be home. She was tired of it," said Ed Lozzi, spokesman for Gabor's daughter, Francesca Hilton.
The 93-year-old received her last rites from a priest at the hospital in Los Angeles on Sunday following surgery to remove two blood clots.
The operation followed complications after a hip replacement in July.
Doctors wanted to perform surgery on Gabor's liver that would give her a 50% chance of survival, but Gabor and her husband, Frederick Prinz von Anhalt, decided "she wanted to spend her final days at home", publicist John Blanchette said.
"Frederick said he did not want to torture her any more," he added.
Mr Blanchette said Gabor is "in and out of consciousness."
Gabor, who starred in films including Moulin Rouge and Touch of Evil, is partially paralysed following a car accident in 2002 and a stroke in 2005.