Emma Thompson to pen new Peter Rabbit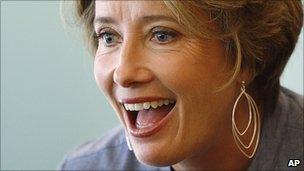 Oscar-winning actress Emma Thompson is to write a new Peter Rabbit story to mark the 110th anniversary of Beatrix Potter's original story.
The 51-year-old told US chat show host Craig Ferguson she "had a lovely little job offer" from the publishers of the children's book series.
"They asked me to write a new story, so I'm going to take him to Scotland," she said.
Thompson's story is expected to be published in 2012.
The actress, who has previously written screenplays for Sense and Sensibility and Nanny McPhee, recently revealed she was planning to take a break from acting.
Her new role was confirmed by Jennifer Cooper from publishers Frederick Warne
"We are currently in talks with Emma Thompson regarding her writing a Peter Rabbit story to commemorate 110 years of Peter Rabbit in 2012," she told the BBC News website.
Beatrix Potter first introduced the character of Peter Rabbit - based on her own pet - to her stories in 1902 after its beginnings as an illustrated letter in 1893.
The author's life was made into the Hollywood film Miss Potter in 2006 with Renee Zellweger playing the title role.
Related Internet Links
The BBC is not responsible for the content of external sites.