Lindsay Lohan released from jail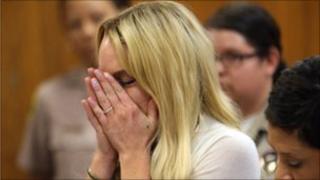 US actress Lindsay Lohan has been released from jail after serving less than two weeks of a 90-day sentence.
Lohan, 24, had entered an all-female jail in Los Angeles on 20 July after violating her probation on a 2007 drunk-driving charge.
Entertainment website E! Online reported that Lohan was released in the early hours of Monday.
The actress is now expected to begin an immediate 90-day rehab programme.
Lohan's early release from the Century Regional Detention Facility to the south of Los Angeles was not unexpected.
Inmates serving time for non-violent offences typically have their sentences reduced for good behaviour and due to overcrowding. The Mean Girls actress spent just 84 minutes at the same facility in 2007.
The actress had been on probation since August 2007 after pleading guilty to misdemeanour drug charges and no contest to three driving charges.
She was ordered to complete a series of alcohol education courses. But she failed to do them on time and missed a number of meetings.
In May, an alcohol-monitoring bracelet was fitted after Lohan failed to attend a probation hearing because she claimed to be stranded in France. Her lawyers said she was unable to fly back from the Cannes Film Festival after her passport was stolen.
Lohan's sentence has put several film projects on hold, including a role as Linda Lovelace in a biopic of the 1970s porn star.
Lohan's last major cinema role was in 2007's poorly-received I Know Who Killed Me.