Japanese conductor Ozawa plans comeback after cancer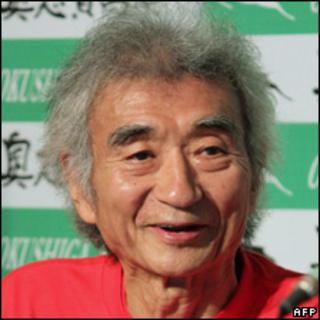 Acclaimed conductor Seiji Ozawa is to perform at a comeback concert in his native Japan next month following treatment for oesophageal cancer.
The musical director of the Vienna State Opera was diagnosed in January and has undergone surgery and several months of treatment.
"I feel like I'm dreaming because I can conduct again now," the 74-year-old said at a news conference on Sunday.
He will perform at the Saito Kinen Festival in Japan on 5 September.
Ozawa is the festival's founder and artistic director.
The maestro said he had lost 33 pounds due to his illness.
"My real physical strength has yet to come back," he said.
"I'm skinny, and I can't eat much. But my second life has started, and today is the first day."
The conductor said he would not be doing too much too soon.
"I'll do my job at my own pace, as I will turn 75 in September," he said.
Ozawa has cancelled a string of appearances in Europe planned for December although he will perform at a concert in New York's Carnegie Hall the same month.
Before he joined the Vienna opera in 2002, he served 29 years as music director of the Boston Symphony Orchestra.