Clare Balding complains over paper's sexuality comment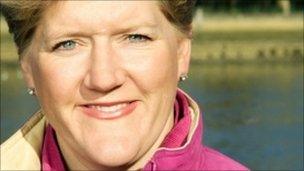 Sports presenter Clare Balding has made an official complaint to the Press Complaints Commission (PCC) over an article which mocked her sexuality in The Sunday Times.
Last week columnist AA Gill reviewed her new show Britain By Bike.
However, Balding took exception to comments he made about her sexuality and appearance in the article.
A PCC spokesperson confirmed the organisation had received a complaint and was now "considering" it.
The spokesperson said: "We've received a complaint, which has been made under Clause 12 of the editors' code of practice. This will now be considered."
A Sunday Times spokeswoman confirmed the PCC had been in touch, but declined to comment further.
Speaking to the BBC News website, Balding revealed she had written to the newspaper's editor John Witherow, receiving what she deemed an unsatisfactory reply.
Witherow wrote: "Some members of the gay community need to stop regarding themselves as having a special victim status and behave like any other sensible group that is accepted by society."
It added: "Not having a privileged status means, of course, one must accept occasionally being the butt of jokes."
Balding took to her Twitter account to react to Gill's comments.
"Complaint now registered. There's a first time for everything so here goes," she wrote.
"I don't mind being referred to as a lesbian. I am, for God's sake, but don't use it as a stick to beat me with. RANT OVER."
Balding herself landed in hot water last year after making fun of jockey Liam Treadwell's teeth live on air just after he won the Grand National.
The BBC received 1,477 complaints from viewers over the remarks, prompting Balding to issue an apology for any offence she had caused.
Related Internet Links
The BBC is not responsible for the content of external sites.