Festivals give anti-rape advice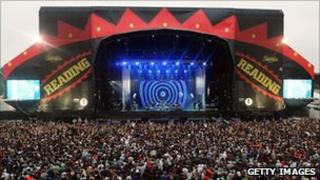 The UK's leading music festival promoter is to give extra safety advice after two alleged rapes at this month's Latitude Festival.
Festival Republic, which runs Latitude, is staging the Reading, Leeds and Big Chill events in August.
Managing director Melvin Benn told BBC News: "We will provide additional information, guidelines [and] support, particularly for young women under 18."
But he stressed that music festivals are "a safe place to be".
"Festivals are made up of an incredible amount of like minded people who offer great support to each other," said Mr Benn, who also oversees security at Glastonbury.
"There are two allegations. I do resent the way the press have made it out as being that somehow these are suddenly unsafe places to be.
"If rape took place it's horrific. I think we work very hard on safety. All of our campsites are lit, we have lots of stewards in them, they're all in high vis [high visibility jackets]."
The promoter was speaking at the site of the Leeds festival, which shares bands with Reading and takes place on the same weekend, from 27-29 August.
The events will be headlined by the Canadian troupe The Arcade Fire, US pop-punk band Blink-182 and Axl Rose with his current line-up of Guns N' Roses.
The Big Chill, a smaller affair that features Massive Attack, MIA and Lily Allen, takes place near Ledbury, Herefordshire, from 5-8 August.
Mr Benn also said there were no parallels between British festivals and the Love Parade event in Duisburg, Germany, where 19 people were crushed to death in a stampede last weekend.
The free event attracted 1.4 million people, according to German media. Spiegel magazine reported on Sunday that the festival only had authorisation for 250,000 revellers.
"None of the UK festivals have even the remotest issue like that," Mr Benn said.
"They're all licensed under very strict premises licensing guidelines and I'm very confident and very comfortable about the safety standard of the entire music industry here in the UK."