David Walliams' wife Lara Stone sues Playboy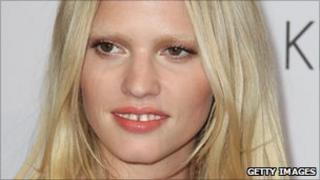 Model Lara Stone, who married comedian David Walliams in May, has announced she is taking legal action against the French edition of Playboy magazine.
The Dutch model says the publication printed "unauthorised photographs" of her in its June edition.
She has instructed lawyers to commence proceedings against the magazine and photographer Greg Lotus in Paris.
Ms Stone said: "It's not the kind of publication I would ever choose to appear in."
She added: "Playboy had no right to publish these unauthorised photographs. I feel I have no option but to take steps to protect my reputation."
Walliams, best known for starring in the BBC comedy series Little Britain, tied the knot with Stone at Claridge's hotel in London in May.
Playboy magazine were not immediately available for comment when approached by the BBC.