Barack Obama to appear on The View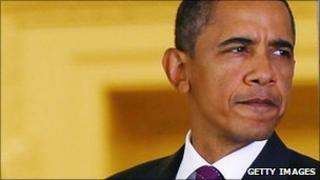 US President Barack Obama is to appear on daytime show The View, broadcaster ABC has announced.
The show, in which Mr Obama will be asked about topics including the Gulf of Mexico oil spill, will be filmed on Wednesday and shown on Thursday.
The network said it would be the first appearance by a sitting US president on a daytime TV chat show.
The View co-host Barbara Walters will return to the studio for the first time since her open heart surgery in May.
"We are so pleased and honoured that President Obama will be a guest on The View," said Walters in a statement.
"This shows that both the president and first lady feel that our show is an influential and important source of information and news."
Walters, 80, added that she would return to the show full-time in September.
Michelle Obama appeared as a co-host on the show in June 2008 while her husband appeared in March of that year during his campaign for the US presidency.
The View features interviews with star guests by hosts including Walters, Whoopi Goldberg and comedienne Joy Behar.
In March last year, Mr Obama became the first sitting president to appear on a late-night talk programme on The Tonight Show with Jay Leno.