UK Film Council to be abolished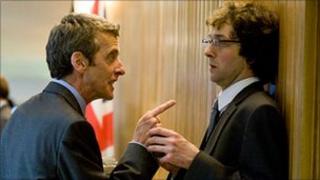 The UK Film Council is to be axed as part of a cost-cutting drive by the Department for Culture, Media and Sport (DCMS), it has been announced.
The organisation, founded in 2000, had an annual budget of £15m to invest in British films and employed 75 people.
Culture Secretary Jeremy Hunt said he wanted to establish a "direct and less bureaucratic relationship with the British Film Institute".
UK Film Council chairman Tim Bevan called it "a bad decision".
He said the announcement was "imposed without any consultation or evaluation".
"People will rightly look back on today's announcement and say it was a big mistake, driven by short-term thinking and political expediency," he said.
The DCMS said film funding would continue but would be distributed through other bodies.
Current lottery funding for film is £26 million per year. This is expected to increase to £32 million after 2012.
Direct government funding, currently about £25m a year, is being considered as part of the ongoing spending review.
In a statement, the DCMS said it was "clear that culture and creative industries will not be singled out as a soft target, and that the government will champion the value they bring".
Digital screens
The Film Council was set up by the Labour government to develop and promote the British film industry.
Funded by the National Lottery, it channelled about £160m into more than 900 films over the last 10 years, including Bend It Like Beckham, The Last King of Scotland and Streetdance 3D.
Other initiatives included the Digital Screen Network, which invested in 240 digital cinema screens across the UK - meaning the UK now has more digital cinemas than any other European country.
In a letter to the British film industry, John Woodward, Chief Executive of the Film Council, said he had been informed that "the target is to have the organisation totally closed down with its assets and its remaining operations transferred out by April 2012".
"That does, at least, give us time to honour our current commitments," he added.
Mr Hunt said 16 public bodies, including the Museums, Libraries and Archives Council (MLA) would lose their funding as the government committed to "increasing the transparency and accountability of its public bodies, while at the same time reducing their number and cost".
"Many of these bodies were set up a considerable length of time ago, and times and demands have changed," he added.
"The changes I have proposed today would help us deliver fantastic culture, media and sport, while ensuring value for money for the public and transparency about where taxpayers' money is spent."
Shadow Culture Secretary Ben Bradshaw has accused the government cuts of being "hasty, ill thought-though and incoherent."
He added: "The UK fllm industry has just had its best year ever, earning millions for our country, but the Government is axing the UK Film Council without saying what or who will do its important work."
The MLA is also to be wound up by 2012, in order to "focus efforts on front-line, essential services and ensure greater value for money".
Responding to the announcement, chairman Sir Andrew Motion and chief executive Roy Clare have pledged to "continue to deliver a vibrant and effective expert service for the public who rightly expect excellent, sustainable museums, libraries and record offices in their local neighbourhoods.
"Stormy seas call for cool heads and steady hands," they added.