Salt fails to shake off Inception at US box office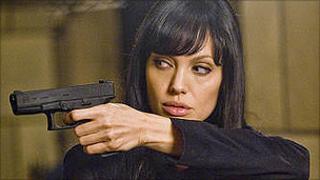 Angelina Jolie's espionage thriller Salt has failed to dislodge Inception from the top of the US box office.
The dream-based blockbuster, starring Leonardo DiCaprio, was number one for a second week, taking $43.5m (£28.1m), while Salt made $36.5m (£23.5m).
Family comedy Despicable Me, starring Steve Carell, was new at three, with Ramona and Beezus the other fresh entry at number six.
The top three films were all based on original material and not sequels.
Hollywood.com's box office analyst Paul Dergarabedian said: "To have original stories as the top-three films is a lesson to studios that maybe audiences are open to more originality in the summer and to perhaps not play it so safe."
Inception, meanwhile, bucked the trend of summer blockbusters holding the top of the box office chart for just one week and then suffering a considerable slide in ticket sales.
Jolie's latest film opening was less successful than her last major action movies, Wanted and Mr and Mrs Smith, which had debuts of more than $50m (£32.2m).
The star's latest high octane adventure, in which she plays a part originally intended for Tom Cruise, earned her an estimated $20m (£12.9m).
This week's North American box office was up 11% on the same weekend last year, but overall ticket sales and attendances were down, according to Hollywood.com.