Welsh TV host Alex Jones named new One Show presenter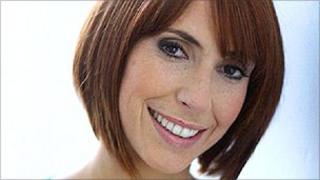 TV presenter Alex Jones will replace Christine Bleakley on The One Show sofa, the BBC has announced.
Jones is a well-known face on Welsh language TV where she has presented various shows, but is relatively unknown in the rest of the UK.
The 32-year-old will share the screen with comedian Jason Manford - who is taking over from Adrian Chiles - when they start on 16 August.
Jones said she was "absolutely thrilled to bits" to be joining the show.
She added: "I watch the show at home every night on my sofa and can't believe I'm now swapping it for The One Show sofa.
"It is the break I have only ever dreamed of and can't believe I'm getting to work with Jason Manford who I think is just fantastic - it truly is the icing on the cake."
Manford said: "After meeting so many brilliant presenters Alex just felt really special.
"She is going to be brill and we can't wait to start the show together."
Jones told BBC Radio 5 Live that she and "down-to-earth" Manford got on well during auditions.
"Jason is quite new to presenting, I have presenting experience, but he has the humour so I think both things complemented each other," she said.
"Straight away we felt pretty much at home with each other."
Cardiff-based Jones, who is originally from Ammanford in Carmarthenshire, has worked on and presented Welsh-language programmes over the past 10 years, mainly in children's TV.
She recently branched out as a presenter on the S4C travel series Tocyn and is a regular on Jonathan Davies' rugby magazine show Jonathan.
Her appointment is similar to Bleakley's who was a well-known face in her native Northern Ireland before being chosen to front the show.
The One Show editor Sandy Smith said: "Alex is warm, funny and very experienced despite being almost unknown outside Wales.
"It feels right for many reasons to be developing someone new at this time and I hope One Show viewers enjoy seeing her relationship with Jason develop on screen and take her to their heart."
BBC daytime controller Liam Keelan said: "Her screen test with Jason was outstanding and from that moment we knew she was the one.
"We are really proud to have Alex on board and look forward to introducing her to The One show audience.
"She has a lovely sense of humour and she's the perfect fit for Jason Manford as the show begins its next journey."
Comedian Manford was announced as Chiles's replacement in May.
Chiles, who had fronted the show since its inception in 2006, left the BBC days after it was decided Chris Evans would present the show on Fridays.
Bleakley left the BBC after the corporation eventually withdrew its offer for her to remain on The One Show following a public statement made by the star in which she said she was torn over where her future lay.
The pair will front ITV's new breakfast show Daybreak, which launches in September.