Getting Sherlock Holmes role a 'joy and worry' - Cumberbatch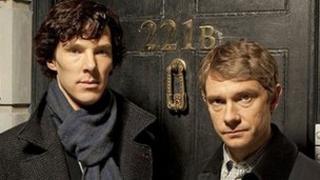 Actor Benedict Cumberbatch has admitted he felt an initial rush of anxiety over taking on the role of a modern-day Sherlock Holmes.
The 34-year-old actor stars in the BBC's contemporary remake of the Arthur Conan Doyle classic, which begins on BBC One on Sunday.
Asked how he felt when he got the role he said: "Extraordinary amounts of joy, immediately followed by a tidal wave of neurotic worry.
"You immediately think of Holmes past and present. What am I stepping into? Do I want to be recognised just for this character? You even start to curse your blessings. It's a strange thing being an actor."
Sherlock is a series of three 90-minute films created by Doctor Who writers Steven Moffat and Mark Gatiss.
The first story - A Study in Pink - sees the eccentric detective join forces with Doctor Watson (Martin Freeman) to solve a string of apparent suicides in London in 2010.
In a faithful nod to to the original story, Watson has just returned home after being wounded in Afghanistan.
Cumberbatch described his Sherlock as "a man of action and a great, great thinker".
Speaking at Sherlock's London launch screening, he said: "He has a razor sharp wit that can push people off a pedestal and gain the upper hand in the space of a second. It's so enjoyable to play."
The actor said that during filming he tried to avoid the classic TV and movie versions of Sherlock Holmes.
"Once you start to play with the ghosts of those brilliant incarnations you're in trouble. It's a not a sane thing for any actor to do," he said.
But he added: "Jeremy Brett and Basil Rathbone are the supreme Victorian incarnations of Holmes. I get great relish out of watching them now and I feel a kinship now having bloodied myself with these first three films."
Writers Steven Moffat and Mark Gatiss got the idea for their modern Holmes from their love of the Basil Rathbone films of the 1940s which saw their hero "fighting Nazis and all sort of nonsense".
"It felt cheap and cheerful and a bit pulpy - it's fun," said Moffat. "We thought somebody someday is going to do this again and we'll be so grumpy about that."
Moffat also praised Cumberbatch's portrayal of Sherlock Holmes.
"It's a bit of a blessing that one of the hottest young actors on the planet at the moment happens to look like Sherlock Holmes. He does have the look. He's got that imperious style and he's a bit Byronic."
Wouldn't Benedict Cumberbatch make an ideal Doctor Who?
"There is no vacancy," said Moffat. "Matt Smith is the Doctor and he's been an astonishing success and - who knows - maybe he'll never regenerate again."