Why Sherlock is still sleuthing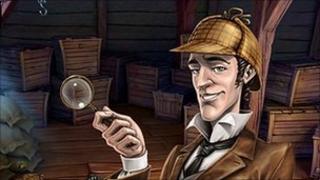 For someone who first appeared in print in 1887, the character of Sherlock Holmes seems to be in the public eye more now than ever before.
This week London's West End saw the opening night of The Secret of Sherlock Holmes - with the great detective played by Peter Egan.
A new BBC film series launches this weekend with Holmes and Dr Watson (played by Benedict Cumberbatch and Martin Freeman) moving into Baker Street in the 21st Century.
Elsewhere, Arthur Conan Doyle's timeless sleuth is present on hand-held games consoles and in a comedic condensed version in fringe theatre.
And all this comes just months after Robert Downey Jr played Holmes as an action hero in Guy Ritchie's lucrative movie outing.
So why is the resident of 221B Baker Street so omnipresent in 2010?
Mark Gatiss, who co-created the BBC Sherlock films with Steven Moffat, says there was no secret conspiracy to bring so many Holmesian productions out at the same time.
"When we were making our pilot we heard Guy Ritchie was making his film," he laughs. "We're not all on the phone together saying, let's cross-fertilise!"
Gatiss puts Sherlock Holmes's longevity down to the "genius" of Arthur Conan Doyle.
"To the end of his days he was very dismissive about his greatest creation - but he'd bottled lightning. The public just loved it. People couldn't get enough of Sherlock and they've never got enough of him since."
Brand name
Moffat, the man in charge of Doctor Who, puts it more bluntly. "It is that good. Simple as that."
He adds: "If those stories had somehow fallen into disrepute or had been found in an attic, you'd be running to the nearest commissioning editor to get them on television."
Moffat's opening story - A Study in Pink - has a strong focus on the relationship between Holmes and Watson. It even hints that Holmes may be gay. (At one point he says girlfriends are "not really my area".)
Jeremy Paul's stage play, The Secret of Sherlock Holmes, also concentrates on that central relationship - drawing heavily on Conan Doyle's original text.
The production opened this week at London's Duchess Theatre with Peter Egan in the lead role.
"He's such a brand name," says Egan. "I think Holmes and Watson as a duo are the most enduring and famous couple in literature throughout the world.
"I think one of the reasons they endure is they were part of such a time of certainty where one believed that the problem would be solved with great fairness and equality and with a sense of honour."
Jean Upton, of the Sherlock Holmes Society of London, points out that Conan Doyle's Holmes "was very much a modern character" when the stories were written.
She says: "He is still an enduring character because he seems so real to people. He's using everyday things, he's going to places where the public are going.
"Even nowadays you can go to the places where Sherlock Holmes went - you can follow the route that he took to get to Covent Garden during The Adventure of The Blue Carbuncle."
Karate detective
Sherlock (Abridged) - a show at the Camden Fringe next month - is a bit less reverential.
The set-up is this: Holmes and Watson feed the complete works of Conan Doyle into a computer, and then have to solve the definitive detective story, The Case of the Porcelain Tongue.
The play's producer, Frazer Brown, admits: "As we were reading the books we noticed that Watson has an eye for the ladies, so one of our more off-kilter ideas is that he is a half-simian lech!"
And his take on Holmes's popularity?
"I think he's the anti-James Bond. There's the people who want to be Daniel Craig coming out of the sea with his top off, and there's the people that fancy themselves as the intellectual karate-wielding detective."
The new TV Sherlock, Benedict Cumberbatch, argues that Holmes's deductive powers are achievable.
"There isn't a sonic screwdriver or a Tardis in sight, this isn't someone who has magic powers," he says.
"If you really set out now you probably could do it - it would probably cost you a lot of friendships and your exams results won't be that good, but you'll be able to solve crimes!"
Sherlock is on BBC One on Sunday at 2100 BST. The Secret of Sherlock Holmes is now on at the Duchess Theatre, London WC2. Sherlock (Abridged) is Upstairs at the Gatehouse, Highgate, 8-10 August. Sherlock Holmes and the Mystery of Osborne House is a game for the Nintendo DS.