Elvis Presley autopsy instruments to go under hammer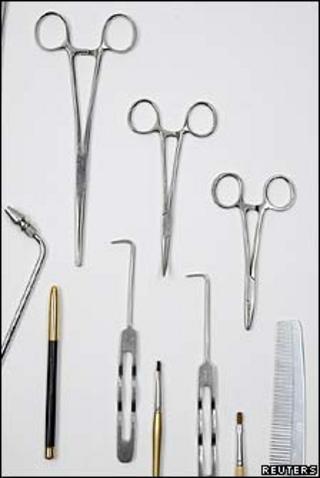 Instruments used in Elvis Presley's autopsy and embalming are to go up for auction in Chicago next month.
Ghoulish items up for grabs include rubber gloves, forceps and the hanger used to hold the singer's burial suit.
The instruments were saved by the senior embalmer at the Memphis Funeral Home, which prepared Presley's body following his death in August 1977.
The tools will be auctioned on 12 August in two sets, expected to fetch up to $8,000 (£5,256) each.
A spokeswoman for Leslie Hindman Auctioneers said the lots would include a preparation room case report, a comb, dry cleaning tags and the coffin shipping invoice.
A replacement toe tag marked 'John Doe' was also preserved by the unnamed mortician, the original having been stolen by a fan.
"It's really about owning a piece of the celebrity," said spokeswoman Mary Williams. "And how much closer can you get than the actual embalming instruments?"
Memorabilia related to the King of Rock 'n' Roll continues to fetch high prices more than 30 years after his death at the age of 42.
Last year a clump of hair believed to have been trimmed from Presley's head in 1958 was sold by the same auctioneers for $15,000 (£9,855).