Row over Egon Schiele work costs Austrian museum $19m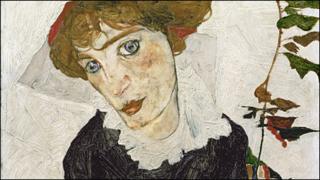 An Austrian museum has agreed to pay a Jewish art dealer's estate $19m (£12m) for a painting that the Nazis stole from her during World War II.
Proceedings began when Egon Schiele's Portrait of Wally was loaned to New York's Museum of Modern Art by the Leopold Museum in 1997.
US officials seized the work in 1998 on suspicion that it had been stolen from Lea Bondi Jaray, who died in 1969.
The Bondi estate says the settlement reflects the value of the painting.
"Justice has been served," the statement said.
"Finally, after more than 70 years, the wrongs suffered by Lea Bondi Jaray are at least being acknowledged and, to some degree, corrected."
US lawyer Preet Bharara said the settlement "marks another small step toward justice for victims of property crimes during World War II".
in 1998, the Manhattan district attorney's office began investigating claims that the painting was stolen when Jaray was forced to sell it on the cheap to a Nazi art collector.
US District Judge Loretta Preska rejected the Leopold Museum's argument that the painting was not stolen property.
The museum has always insisted that it acquired the painting in good faith from legitimate postwar owners.
It was among more than 100 works lent to MOMA by the Leopold Foundation. At the time, it was estimated that Portrait of Wally was worth about $2m (£1.3m).