Seamus Heaney shortlisted for Forward poetry prize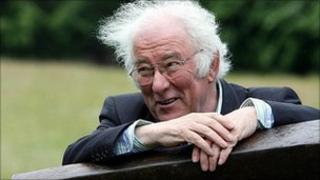 Seamus Heaney has been shortlisted for the 19th Forward Prize for Poetry.
Heaney is up for best collection with Human Chain, along with previous winners Robin Robertson and Jo Shapcott.
Lachlan Mackinnon, Sinead Morrissey and Fiona Sampson have been shortlisted for the first time.
Judges chairman Ruth Padel said it was an "astonishing" year for poetry. The winner of the £10,000 prize will be announced on 6 October in London.
The other Forward Prizes include the £5,000 Felix Dennis Prize for best first collection, and £1,000 for best single poem.
Padel is joined by four fellow judges - poet and columnist Hugo Williams, performance poet Dreadlockalien, journalist and broadcaster Alex Clark, and actress and director Fiona Shaw.
Padel said: "It is an astonishing year for poetry, with an unusually wide range as well as high standard - from international luminaries, much-loved British voices and exciting newcomers.
"With very different tastes and areas of expertise, we spent eight hours reading poems aloud to each other: beautiful lyrics, prose poems, daring modernists and some very funny surrealists.
"It was tough, whittling a rainbow down to a shortlist, and giving up many books we really loved, which in other years would have certainly been on the shortlist.
"But what we have got represents the quality and brilliant variety of poetry and poetry publishing in Britain today."
'Admired poets'
The Forward Prizes were founded by William Sieghart in 1992 to raise the profile of contemporary poetry.
Sieghart, chairman of the Forward Arts Foundation, said there was a continuing demand for contemporary poetry.
"It is an exciting year in which we see much admired poets shortlisted for the first time, as well as the return of big names," he said.
"A great year also for the small presses who keep pushing poets of such a high standard".