Stephen Fry to explore language in BBC series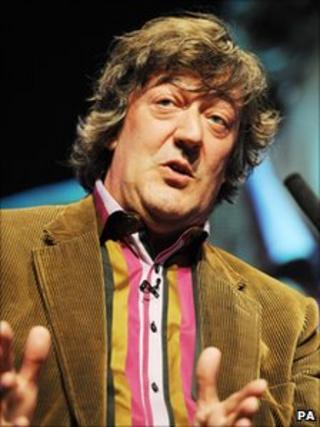 Stephen Fry is to front a new BBC Two documentary series exploring language.
He told the Radio Times that five-part series Planet Word would explore where language comes from, "how we speak it, the variations of it".
Fry, who said language was one of "many passions", added that he loved Anglo-Saxon words that were "just themselves, like 'bundle' - what a lovely word".
The programme will include an interview with the inventor of Pinyin, a phonetic version of Chinese.
Speaking at the annual Bafta Television Lecture in June, Fry said it was "shocking" how "infantilised" adult programmes had become on British TV.
"I'm not saying TV should be pompous and academic, but it should surprise and astonish," he added.
Talking in the Radio Times about his recent BBC Four programme on Wagner, Fry, 52, said: "I think programmes only work if they matter to you because I think audiences are smart."
He added: "Because I have so many passions, I don't want to do things I'm not genuinely interested in."