Vatican reveals Caravaggio painting 'found' in Rome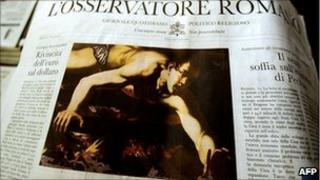 An undiscovered Caravaggio painting may have been found in Rome, according to the Vatican newspaper.
The painting depicts the martyrdom of St Lawrence and belongs to the Jesuits in Rome.
It will now be examined in detail by art historians to find out if it really is the work of the famous Baroque painter.
Italy celebrated the life of the great master over the weekend on the 400th anniversary of Caravaggio's death.
A gallery housing his work and several churches stayed open overnight to mark the anniversary.
An image of the work was published on the front page of the Vatican's L'Osservatore Romano on Saturday.
It shows a semi-naked man, with one arm outstretched as he leans over leaping flames beneath him.
Violent history
But while the Vatican newspaper article points out that the painting is typical of Caravaggio's style - such as the perspective from which the subject is seen - it conceded that no known document mentions St Lawrence in relation to Caravaggio.
A leading Caravaggio scholar, Maurizio Marini, expressed scepticism about the painting's authenticity.
"In certain moments, such as Caravaggio's anniversaries, it's no surprise that a lot of paintings come out that are supposedly Caravaggio's work," Marini told the AP news agency.
Caravaggio was born in either 1571 or 1573, according to varying scholars, and spent the last few years of his life fleeing justice in southern Italy.
Caravaggio was famed for his wild lifestyle - he was often involved in street violence, culminating in him stabbing and killing a man before going on the run in 1606.
He fled to Naples and died four years later in the town of Porto Ecole.
His works include Bacchus, The Supper at Emmaus and Sacrifice of Isaac.
A group of Italian researchers recently revealed they had found human remains found in a church in Tuscany almost certainly belong to Caravaggio.