Director ignores Facebook threats for Human Centipede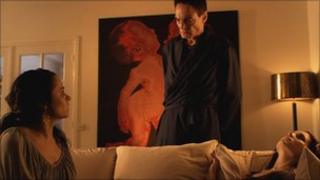 A Dutch film-maker has said he does not take seriously threats that have been made against him over his controversial horror film The Human Centipede.
The movie, set in Germany, tells the story of a demented surgeon who kidnaps tourists to use for his bizarre experiments.
Tom Six, who wrote and directed the film, said he expected his biological shocker to divide audiences when it is released in the UK next month. A sequel is already in pre-production.
"On Facebook people made a fan page for myself and the film," he told the BBC. "Some people say I have to be shot and some people want to sterilise me - and others say I'm the most genius film-maker there is."
As the title suggests, The Human Centipede (First Sequence) sees the surgeon (played by Dieter Laser) surgically connect two young American women and a Japanese man into conjoined "triplet".
"I knew when I made this film, it would provoke a lot of reactions because it's pretty strange and not everybody can handle that," Six said.
"I take it all with a blink of the eye, because why would you shoot a film-maker? I don't really care about it.
"Of course, there are a lot of lunatics out there but I don't see myself going to a premiere with bodyguards around me."
Six started his career in television as one of the original directors of Big Brother in the Netherlands. The Human Centipede is his fourth film.