Jonathan Ross bows out of BBC Radio 2 show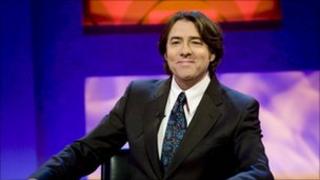 Jonathan Ross has finished his last BBC Radio 2 show, saying "about 90%" of his guests were "great" and "only a handful were terrifically disappointing".
His decision to leave the BBC came more than a year after the so-called "Sachsgate" affair in which he and comedian Russell Brand left lewd messages for actor Andrew Sachs.
The presenter said there had been only a few shows he had been "ashamed of".
He added: "The vast majority are shows I am proud of."
Mr Ross, who said in January he would not be renewing his BBC contract after 13 years, is to present an ITV chat show.
The previous night his final television chat show for the BBC was broadcast, in which he said he was "grateful, lucky and honoured" to have worked at the corporation.
'Too lively'
For his final BBC radio presenting appearance, Mr Ross and his sidekick Andy Davies were joined by X-Factor twins John and Edward Grimes or "Jedward", comedian Alan Carr and singer Sir Tom Jones.
The three-hour pre-recorded show opened with the Sex Pistols song Pretty Vacant.
Discussing his 11 years presenting the radio show, Mr Ross told listeners: "It has been a tremendous experience for us - obviously I like to think that the place has always been a little livelier while we are around.
"There were certain periods when it was a little too lively, but it's been a great experience and a learning experience, bizarrely for people of our age."
Recalling the musicians who had appeared as guests, he added: "We really have been spoiled - and we've worked with some great people here at the BBC - and the BBC have supported us and shown us a great degree of leeway and I leave with nothing but fond memories and gratitude."
He also paid tribute to the show's crew and his rapport with Davies, which he compared to Ronnie Barker and Richard Beckinsale sharing a cell in the 1970s sitcom Porridge.
Drive-In Saturday by David Bowie was the final tune.
Ross will begin his new ITV series, which will air in a peak-time slot, in late 2011.
He was suspended for three months over "Sachsgate" incident, in which he and Mr Brand left obscene messages on the actor's answering machine.