Peter Sellers 'tried to change will' before he died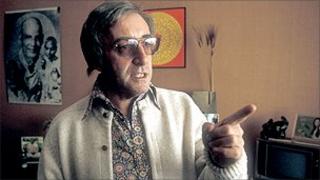 Peter Sellers tried to change his will on the day he suffered his fatal heart attack, a newly-discovered legal document suggests.
According to the letter signed by Sellers, the comic actor wanted to stop his entire fortune passing to his estranged fourth wife, Lynne Frederick.
The letter is dated 22 July 1980 - the day Sellers collapsed and fell into a coma at the Dorchester Hotel.
It is expected to fetch up to £1,500 when it is auctioned this weekend.
Heart surgery
Sellers, who was best known for The Goon Show and playing Chief Inspector Clouseau in The Pink Panther, had arranged to have dinner with his Goon co-stars, Spike Milligan and Harry Secombe, in late July 1980.
But on 22 July, he collapsed from a massive heart attack, just days before he was scheduled to have major heart surgery in Los Angeles.
The actor had suffered a series of heart attacks in 1964 - as many as 13 over the course of a few days - and the condition of his heart had deteriorated over the following years.
After two days in a London hospital, he died on the night of 24 July, 1980, aged 54.
Sellers was survived by his fourth wife, from whom he was separated, and three children, Michael, Sarah and Victoria.
The letter, which was signed at the Dorchester, features Sellers's signature, and reads: "The Trustees shall hold, manage, invest, reinvest the trust property for the benefit of Victoria Sellers, daughter of the Grantor, born January 20, 1965 upon the following terms".
It goes on to add that Victoria - his daughter with second wife Britt Ekland - should inherit £20,000 on her 21st birthday.
But the papers were never made official and Ms Frederick inherited the bulk of his fortune. His children all received token amounts.
Auctioneers Henry Aldridge and Son of Devizes, said: "This document is exceptional on two fronts. One, that it was the very last item ever to be signed by Peter, and two, because his daughter Victoria was left just £800 in his will.
"If this trust fund had been known about then she would have been left a very large amount on her 21st birthday."
Also up for sale is the Golden Globe award Sellers won for his role in the 1979 comedy Being There. It is expected to fetch £5,000-£6,000.