Will Smith says his Karate Kid star son can handle fame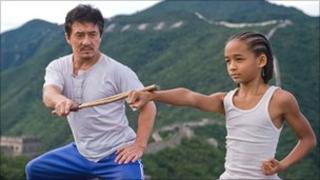 Hollywood actor Will Smith has said he is confident that his son Jaden can cope with the pressures of fame.
Jaden, who has just turned 12, appears alongside martial arts legend Jackie Chan in the remake of The Karate Kid.
"He grew up in this industry so it's not foreign to him. He understands that this is a family business," said Smith, ahead of the film's UK premiere.
"He didn't have the shock and the radical life change that child actors usually have coming into the business."
The Karate Kid is a remake of the 1984 original, and was shot entirely in China. Despite its title, the movie is about how a bullied boy (Jaden Smith) learns kung fu from a maintenance man played by Chan.
Asked if he wanted to be a bigger star than his father, Jaden told the BBC: "'I'm going to try!"
Jackie Chan - who has appeared in more than 100 action films since the 1970s - said Jaden had a lot of potential to be a big star.
"He's young. He can sing, he can rap, he can dance, he can fight, he can act," he said.
Star pressure
Jaden - the son of Will and actress Jada Pinkett Smith - was last seen on the big screen opposite Keanu Reeves in The Day The Earth Stood Still. He also appeared alongside his father in The Pursuit of Happyness (2006).
Asked how big a star he thought Jaden could become, Will Smith joked: "If one more person calls me the Karate Kid's dad, then Men in Black III is coming out immediately!"
Pinkett Smith, a producer on Karate Kid alongside her husband, said: "One of the advantages that Jaden has, that a lot child stars have not, is that his parents have been doing this for a long time - so we really understand the industry and the do's and don'ts.
"When your dad is still the biggest movie star in the world it keeps everything really grounded. He won't be paying any bills anytime soon."
Will Smith added: "Child stars are generally broken by the pressure of being the breadwinner of a household at 14 or 16 years old.
"I hope that we have a bit of handle on it. We're focusing very closely and paying attention to his energy and his desire and his love for it."
At a press conference in London, Smith turned to his son and asked: "How are we doing, parenting wise?"
Jaden said: "I think you should let me stay out longer..."
The Karate Kid is released in the UK on 28 July.