In profile: Piers Morgan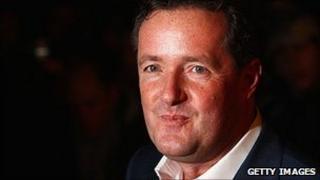 From celebrity columnist to newspaper editor to judging tap-dancing dogs, Piers Morgan has enjoyed a varied career.
And, with the announcement that he will replace Larry King on US news network CNN, his transformation from Fleet Street hack to international TV star is complete.
So what went right for Piers Morgan?
Within weeks of being sacked as editor of the Daily Mirror for publishing faked photos of British troops abusing Iraqi prisoners, Piers Morgan had signed a £1.2m book deal, promising to dish the dirt about his time in newspapers.
It was a sign that he was not going to go quietly.
Since then - mainly thanks to his friend Simon Cowell - Morgan has carved out a hugely successful TV career on both sides of the Atlantic.
As a villainous judge on America's Got Talent and its British counterpart, Morgan's name is a household one.
Self-satisfied, smug and arrogant are just some of the criticisms that have dogged Morgan since his days as a cub reporter, right through to his latest celebrity incarnation.
He has called his celebrity status "ludicrous", yet freely admits: "I want to be in the papers".
Rich and famous
Born in 1965 in an East Sussex village, Piers Stefan Pughe-Morgan was youngest of four children and the son of a meat distribution executive.
He attended boarding school but later moved on to a comprehensive and sixth-form college.
After school, he studied journalism at Harlow College and worked for local south London newspapers before being spotted by then-editor of The Sun, Kelvin MacKenzie.
He was given his own showbiz column, Bizarre, where McKenzie encouraged Morgan to establish his trademark - pictures of himself with the rich and famous.
Morgan was just 28 when he became editor of the News of the World in January 1994.
Share scandal
In November of the following year he became the youngest national daily newspaper editor when he moved to the Mirror.
He steered the paper through some of the biggest stories of the late 1990s - the death of Princess Diana, Dunblane and New Labour - but he was frequently criticised for intrusive reporting, particularly in coverage of the Royal Family.
The new millennium brought changes for Morgan and newspaper.
Morgan made headlines in February 2000 when the Mirror became embroiled in a share dealing scandal after it emerged that a number of staff had bought shares tipped in its City Slickers column.
He was rapped by the Press Complaints Commission, who ruled he had breached the newspaper industry's code of practice.
After the terrorist attacks of 11 September, 2001, Morgan decided to change the focus of the Mirror to a more serious news agenda, which was reflected by the red top paper's broadsheet-style front page on 12 September.
The Mirror took a strong anti-war stance in the build-up to the war in Iraq and won the Newspaper of the Year Award 2001.
Legal costs
Morgan famously battled supermodel Naomi Campbell in court after she won a breach of confidentiality claim against the Mirror, which had published pictures of her leaving drug addiction treatment in early 2001.
The Appeal Court ordered her to pay the paper's £350,000 legal costs after overturning the High Court ruling, but that, too, was overturned by the Law Lords in May 2004 who reinstated the original decision and damages.
Undeterred, Morgan proved he was prepared to take on anyone, even the then-prime minister's wife, Cherie Blair, claiming in 2002 that she had tried to get him sacked. The claim was denied by Downing Street.
But it was Morgan's nod that led to the publication of photographs which allegedly showed British soldiers humiliating Iraqi prisoners of war in spring, 2004.
He continued to insist the photographs were genuine even after the British army had claimed they were fakes. The stubborn stance was to be the editor's undoing.
"I was frogmarched out," he said in an interview with The Times in April 2009. "It could have been done in a more dignified way, but it liberated me.
"I would probably be dead by now, considering the pace I was going at."
Since then, Morgan has been ever-present on TV screens, and has churned out several books.
His ITV interview show, Life Stories, made the headlines earlier this year when Gordon Brown appeared close to tears as Morgan questioned him about his baby daughter, who died shortly after birth.
Rumours of his move to CNN began circulating earlier this year. Morgan was unusually circumspect, telling Real Radio: "I can't actually talk about that yet, but there's a few things going on in America which I'm sure we'll know more about in a while."
Confirming his appointment on Wednesday, CNN President Jon Klein said Morgan was "able to look at all aspects of the news with style and humour with an occasional good laugh in the process".
And taking over one of the highest-profile talk shows in the US is bound to delight the former journalist.
Asked by The Times why he wanted to be famous, he said: "Where do I start? The freebies, upgrades, best tables in restaurants. I did a 'real job' for 20 years. Now I do a bit of judging and interviewing. People treat me differently because I'm a celebrity.
"I couldn't give a toss about intrusion. When I get chased by the paparazzi I chase them back.
"I want to be in the papers."