The special agent 'killed' by the Archers
By Alex Hudson
BBC News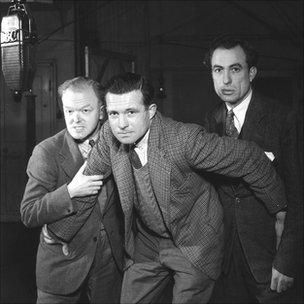 "This is the BBC from London. And now… Dick Barton - Special Agent."
And with that announcement, the radio sprung into life with the sound of one of the most famous theme tunes of all time and the dramatic voice over revealing the situation that Dick was left in at the end of the previous episode.
For those who cannot remember him, Dick Barton took over the airwaves for 15 minutes a night, five nights a week for six months of the year between 1946 and 1951.
In his six years on air he - with his companions Snowey and Jock - fought against giant spiders, death rays, plague-infested rats, countless other nasties and a whole host of evil villains.
He provided the blueprint for James Bond and a number of other detective stories that would follow. It is even believed to have influenced The Avengers.
Here is how the story goes - World War II had ended only a year ago, comics had been suspended to save paper, the country was still under rationing and the radio was the only real form of entertainment.
Novelist Norman Collins had just become head of the Light Programme on BBC radio and he had an idea that a serial of daily adventures could captivate his audience.
He asked his assistant, John McMillan, to come up with an idea for a "cloak-and-dagger soap opera" and write dossiers on each of the characters.
The lead role was given to actor Noel Johnson and then the job of producer was given to Neil Tuson.
"I hadn't produced a thing in my life before that," remembered Tuson, who thought he was being invited in to devise a script for the series.
Despite his inexperience however, Tuson knew what he needed for the programme to have impact - a great theme tune.
"I went down to the bowels of the BBC," he said.
"I went through old classics, modern classics, you name it I went through them… At long last I put this thing [the Devil's Gallop] on and thought 'that's it.'"
It has since been used in Monty Python, Dad's Army, the Goodies and more recently provided the theme tune for Mitchell and Webb's Sir Digby Chicken Caesar.
"I think electrifying is the only way to describe it," said Barton enthusiast John Mundy.
"I think it was a very important ingredient in setting the tone to the entire programme."
On Monday 7 October 1946 at 6.45pm, Dick Barton crashed over the airwaves for the first time, advocating adventure over "a nice, peaceful office job," as Barton described before heading out to search for a secret weapon that could hold the world to ransom.
The first review appeared in The Daily Worker 12 days later: "It is so bad as to be almost beyond belief," it said.
Within a month the BBC was receiving 200 fan letters a week. Within six months that number had become 2,000. At its peak, the programme averaged 15 million listeners but with the show's popularity came increased scrutiny and criticism.
Miss Marion Seddon informed readers of The Illustrated London News that "children have no business listening at the homework hour to the exploits of Dick Barton and other characters leading abnormal lives."
A letter to The Times read: "The BBC seems bent on turning children into a new kind of drug addict. They grow more concerned from day to day about what Dick Barton may do next than about their futures or the future of England."
A child, when asked by his Sunday School teacher as to who fashioned him in the world, replied "God". Further questioned on who he would turn to if he was in great danger, he honestly answered "Dick Barton".
On one occasion, when the show was not broadcast because of technical problems, all telephone lines to the BBC were jammed and large numbers of children travelled to Broadcasting House to see if Dick needed any help.
Perhaps the strongest indicator of the strength of the programme however, was when the BBC bowed to pressure and released a code of conduct which the hero - and the writers - must abide by. This was done by publishing it in the Daily Telegraph in January 1948.
All of this made Noel Johnson a star.
"Dad was being asked to open fetes, to do things left, right and centre, which were all to do with Dick Barton," said Noel's son Gareth.
"In kind of a way it coloured his career, for better and for worse."
Soon the silver screen was calling and, in 1948, Dick Barton: Special Agent was released, though it starred the more handsome Don Stannard rather than Johnson.
Three films were made before Stannard died in a motorcycle accident in 1949.
Johnson himself was unhappy about the pay he was receiving for his work and he resigned in 1949.
"I could not get the BBC to realise," he said, "that I was in the position of a film star so far as fan mail and popularity, with something like a fraction of a film star's earnings."
Over 1,000 people applied for the role - from policemen to dancing band managers. Even a seven-year-old boy applied for the part. On a postcard, he stated "I want to be Dick Barton, I have a gruff voice and I can shout."
The role was eventually given to explorer Duncan Carse and then to Gordon Davies.
By 1950, Dick Barton had defeated Nazis and thwarted many an evil scheme but he was about to come up against his toughest foe yet - a farmer.
Radio was used after World War II to disseminate information to farmers and smallholders to increase productivity.
"I couldn't find any listeners to listen to the standard BBC-type of farming programme," said Godfrey Baseley, creator of the Archers.
Eventually, conferences were organised to ask what farmers wanted. Eventually, Mr Henry Burtt of Dowsby, Lincolnshire, stood up and cleared his throat.
"What we farmers want is a farming Dick Barton," he is reported to have said.
"Well, of course, everybody burst out laughing," said Baseley.
Yet, after attempting a couple of scripts himself, Baseley brought in the writers of Dick Barton - Edward Mason and Geoffrey Webb - to help out and with that, Dan Archer - The Special Farmer was born.
As the Archers found its feet, the decision was made to finish Dick Barton. After 711 programmes, on Friday 30 March 1951 the cast bid farewell.
"I think the then head of drama Val Gielgud decided [Dick Barton - Special Agent] was not the right thing to broadcast. I think he thought it was a bad influence on the youth of Britain," said John Mann, who played Snowey.
Though The Archers has received most of the criticism for the "death" of Barton, some are more pragmatic:
"[The excitement about the programme] was generated by that immediate post-war condition," said John Mundy.
"Maybe that was a greater factor than we realised and it was doomed to die. Other things were coming over the horizon - the space race for example - so it may have been a natural decline."
But that was not the end of Dick Barton.
In 1972, to celebrate the 50th anniversary of the BBC, the original cast gathered to re-record an abridged version of the first adventure and a short-lived TV series appeared in the late 1970s. He has also been resurrected for a number of stage musicals.
"What would be very interesting, would be if Hollywood actually was inspired to make a really good film about Dick Barton with just the right actor," said Mundy.
Maybe then, Dick Barton could return for one last adventure nearly 60 years on.
Related Internet Links
The BBC is not responsible for the content of external sites.