US mid-terms 2018 on the BBC: How to follow the results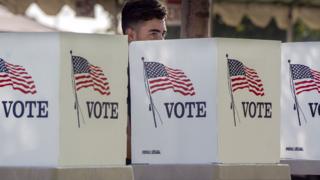 Millions of Americans are already voting to decide the shape of the next Congress, ahead of polling day on Tuesday. Here's how to keep up with the latest results, analysis and interviews on BBC online, social media, radio and TV.
Online
The BBC News website is providing across-the-board coverage of the US mid-term elections to UK and international audiences.
There will be a full results service. And you can also follow our live page for the latest news and analysis from BBC editors and correspondents as well as expert views from guest interviewees and other commentators, and a selection of commentary from across the globe.
We will be streaming the BBC's live TV results programme from midnight GMT/19:00 EST on Tuesday, 6 November and there will be a full results service with live video, news stories and key clips for desktop and mobile through the night and the following day.
Full detailed results as they come in will be available on our results page.
Television
US 2018: Election Night in America, presented by Katty Kay and Christian Fraser in Washington.
From midnight GMT/19:00 EST on Tuesday on the BBC World News channel and the BBC News channel in the UK.
Special coverage, reaction and analysis throughout Wednesday.
Radio
BBC News Special, presented by Philippa Thomas, Nuala McGovern and Jamie Coomarasamy on BBC World Service from 2200 GMT/1700 EST on Tuesday and BBC Radio 4 from midnight GMT/1900 EST on Tuesday.
Social media
Twitter - Follow the results as they come in and all the latest analysis, video and graphics on BBC North America and the significant developments on BBC World.
Facebook - We will be sharing the most newsworthy and interesting moments of the night on the BBC News Facebook page and we will have Facebook Lives on Wednesday taking in what's happened and what it means.
Instagram - We'll have a range of pictures on the BBC Instagram showing the key developments of the night, plus Instagram stories that encapsulate the big themes.
The BBC out and about
BBC correspondents will be reporting from key cities across the US and you can follow them on Twitter.
Washington
Katty Kay, World News presenter @KattyKayBBC
Jon Sopel, North America editor @BBCJonSopel
Dave Lee, technology correspondent @DaveLeeBBC
Anthony Zurcher, North America correspondent @awzurcher
Dan Johnson, North America correspondent @DanJohnsonNews
Chris Buckler, North America correspondent @csbuckler
Philadelphia, Pennsylvania
Nick Bryant, New York correspondent @NickBryantNY
Miami, Florida
Rajini Vaidyanathan, North America correspondent @BBCRajiniV
Houston, Texas
Gary O'Donoghue, Washington correspondent @BBCBlindGazza
New Jersey
Nada Tawfik, New York correspondent @bbcnadatawfik
Arizona
James Cook, North America correspondent @BBCJamesCook
California
Peter Bowes, North America correspondent @peterbowes
More about the US election