Biden and Obama memes: Jokes on Trump imagined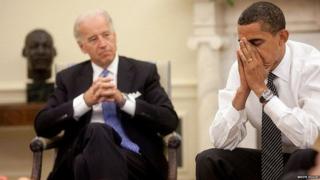 Just what are US President Barack Obama and Vice-President Joe Biden talking about?
People are speculating online about the private conversations between the pair as they prepare to hand over to President-elect Donald Trump and Vice-President-elect Mike Pence.
These internet memes have taken off since the US election on 8 November.
Most of them feature Biden plotting practical jokes on Trump, with Obama desperately trying to hold him back.
---
You might also like:
Awkward photos of Trump and Obama
Michelle 'ape in heels' outrage
---
Some play on the theme of a certain practical-joke laden, madcap comedy film from 1990.
Or just have Joe Biden being silly.
In one, Vice-President Biden imagines President Obama as Gotham's caped crusader.
A few reference President-elect Trump's policies, such as his plan to build a wall on the US-Mexico border.
Or his previous support for the "birther" campaign that claimed President Obama had not been born in the US.
Or the feeling that the Trump-Pence ticket will be somewhat more conservative than the Obama-Biden era.
Other people are looking to the future.
While some are striking a more emotional tone with their memes.
By Nathan Williams, UGC and Social News team