Steve Bannon: The downfall of Trump's chief strategist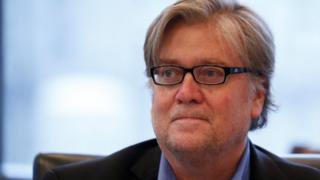 Steve Bannon was the driving force behind the right-wing Breitbart News website before emerging as one of the key players in Donald Trump's White House.
He served as chief strategist, a role that gave him a direct line to President Trump, and his influence was discerned in key decisions, before he left his post in August 2017.
The two men seemed like ideological soulmates and Mr Bannon was front-and-centre for such events as the mid-2017 US withdrawal from the Paris climate agreement.
But in truth their relationship was by then already cooling rapidly.
In April, Mr Trump had declined to affirm that Mr Bannon still had his support, removing him from his elevated role on the crucial National Security Council.
'Bannon the Barbarian'
Mr Bannon then kept a somewhat lower profile and talk of his impending removal swirled.
There were reports of power struggles with Mr Trump's son-in-law and senior adviser, Jared Kushner, Gary Cohn, the director of the president's National Economic Council, and National Security Adviser HR McMaster.
When the end came, in August 2017, it was unsurprising.
Mr Trump himself had reportedly grown weary at the press leaks and of Mr Bannon taking credit for his election victory.
Mr Bannon headed back to Breitbart, vowing to wage war on the president's opponents.
"I've got my hands back on my weapons," he said. "It's Bannon the Barbarian."
But the schisms started to show.
Mr Bannon said Mr Trump's firing of the FBI's director had been the biggest mistake in "modern political history".
He defied the president by championing a controversial Alabama Senate candidate who crashed to a humiliating defeat against a Democrat.
The last straw came when Mr Bannon was quoted in a new book as describing a meeting between Mr Trump's son and a group of Russians as "treasonous".
"Steve Bannon has nothing to do with me or my presidency. When he was fired, he not only lost his job, he lost his mind," Mr Trump said in a statement.
Mr Bannon swiftly recanted, but the damage was done.
One of Breitbart News's major financial backers, Rebekah Mercer, cut him loose and days later he stepped down.
Seinfeld role
Born in Virginia in 1953, Mr Bannon spent four years in the navy before completing an MBA at Harvard.
He went into investment banking and after a spell with Goldman Sachs moved into media financing, helping to get the comedy show Seinfeld, among others, off the ground.
He shifted into film production, working in Hollywood before branching out into independent political documentary-making, paying homage to former US President Ronald Reagan, former Alaska Governor Sarah Palin and the Tea Party movement.
Through this work he met Andrew Breitbart, a staunchly conservative media entrepreneur who wanted to create a site that challenged what he saw as liberal-dominated mainstream media.
When Breitbart died of a heart attack in 2012, Mr Bannon took over as head of Breitbart News and drove it forward.
The site positioned itself as a populist, bellicose, conspiracy-tinged outlet for right-wing Americans disillusioned with mainstream politicians.
During the election campaign, the site was fulsome in its support of Donald Trump.
Mr Trump had appointed Mr Bannon as his campaign CEO in August 2016 and, following his victory, handed him the key White House role.
Democrats and civil rights groups accused Mr Bannon and his media outlet of allying themselves with white nationalists.
Mr Bannon's ultimate downfall will also delight the Republican mainstream, which has been repeatedly assailed by Breitbart.
As this outspoken, conservative bare knuckle-fighter is banished, the big question is whether he will go quietly.