Daily dig: Richard Branson has Donald Trump in his sights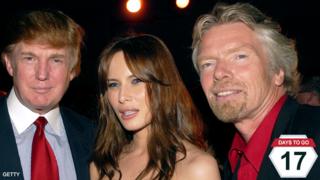 With just 17 days until America votes for its next president, Richard Branson steps in to give his verdict on the candidates and Joe Biden wishes he was at school with Donald Trump.
The latest
In a blog post on Friday titled "Meeting Donald Trump," British tycoon Sir Richard Branson became the latest celebrity to give his thoughts on this never-ending election. And it wasn't a pitch for President Trump.
Mr Branson describes being invited by Mr Trump to his apartment in Manhattan where the New Yorker discussed his bankruptcy and the various people he had gone to for help but who had turned their backs on him.
"He told me he was going to spend the rest of his life destroying these five people," Mr Branson continues, before adding that he found the event "bizarre". He told Mr Trump there must be more constructive ways to spend the rest of his life. "Hopefully my advice didn't lead to him running for president!" he writes.
"For somebody who is running to be the leader of the free world to be so wrapped up in himself, rather than concerned with global issues, is very worrying," the Virgin founder concludes.
Just in case anyone is left in any doubt as to which candidate he prefers, he adds that he later had lunch with Hillary Clinton where they talked "education reform, the war on drugs, women's rights, conflicts around the globe and the death penalty". You get the message.
And in another sign that Hillary Clinton has no problem connecting with celebrities, Oprah Winfrey came out batting for her on Friday as well. In an interview with a Texan pastor, the TV star said she hasn't been vocal about her support for Hillary Clinton because she "didn't know what to say that could actually pierce through all the noise and the chaos and the disgusting vitriol that's going on".
But she encouraged voters who hadn't worked out whether they liked Mrs Clinton to think about what they wanted in a leader. "She's not coming over to your house! You don't have to like her!" she added.
Talking of candidates you don't have to like, former Ku Klux Klan leader David Duke, who is running to become a senator in Louisiana, made some headlines on Friday after polling well enough to make it into a televised debate on 2 November. As if this election wasn't crazy enough already...
---
Random stat
3
The number of states that say they have refused requests from Russian officials to be present at polling stations on election day.
---
Picture of the day
Chicago Tribune: Bill Murray crashes White House press briefing
---
Quote of the day
---
Weekend diary
With just three weekends before election day, it's a busy couple of days for both campaigns.
Hillary Clinton is in Pennsylvania on Saturday with running-mate Tim Kaine, holding "get out the vote" rallies in Pittsburgh and Philadelphia. Meanwhile, Bill Clinton is down in Florida visiting Panama City and Pensacola. On Sunday, Mrs Clinton is in North Carolina while Tim Kaine hits Florida.
Donald Trump is zigzagging across three states on Saturday, visiting Pennsylvania, Virginia and Ohio - the last one a joint rally with running-mate Mike Pence. On Sunday, Mr Trump is in Naples, Florida.