Chelsea Clinton gives birth to baby boy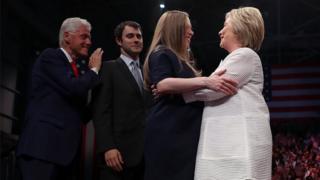 Chelsea Clinton and her husband Marc Mezvinsky have announced the birth of their second child.
"Marc and I are overwhelmed with gratitude and love as we celebrate the birth of our son, Aidan Clinton Mezvinsky," Ms Clinton tweeted.
The couple already have a daughter, Charlotte, born in 2014.
The little boy is the second grandchild for US Democratic presidential candidate Hillary Clinton and her husband Bill.
Hillary Clinton describes herself as "wife, mom, grandma" in her own twitter bio.
Why is Hillary Clinton leaving out 'Rodham'?
Chelsea Clinton has frequently supported her mother at political events, most recently appearing alongside her in Brooklyn, New York, on 7 June, when she secured the Democratic nomination.
Mrs Clinton's opponent, presumptive Republican nominee Donald Trump, also welcomed a new grandson recently. His daughter Ivanka had a third child, Theodore, in March.