Clinton meets Sanders after Washington DC primary win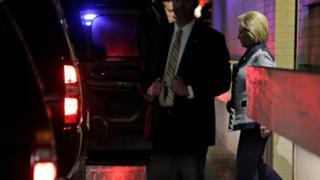 Presumptive Democratic presidential candidate Hillary Clinton won the final primary, in Washington DC, and then met her defeated rival Bernie Sanders.
In statements, the pair said they had discussed the campaign, unifying the party and the "dangerous threat" posed by Republican nominee Donald Trump.
Mr Sanders vowed to do all he could to prevent Mr Trump from being elected, but has not endorsed Mrs Clinton.
Mrs Clinton got nearly 80% of the vote in Tuesday's Washington DC primary.
Why aren't we more excited about Clinton?
Hillary Clinton's 'emailgate' diced and sliced
During their meeting, the two discussed common goals, including raising wages for working families and reducing the cost of university education.
Mr Sanders had earlier said the meeting would enable him to determine Mrs Clinton's commitment to the issues he has campaigned on.
The Vermont senator - who won primaries in 22 states - has said he will urge the party to be more inclusive of young people and working-class voters at the Democratic convention in July.
Last week he met President Barack Obama and Vice-President Joe Biden, who both later endorsed Mrs Clinton.