US Election 2016: Cruz blames Trump for 'tabloid smear'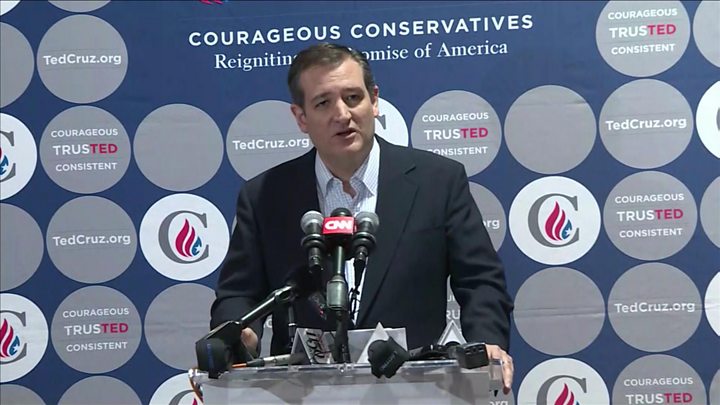 The feud between Republican presidential candidates Ted Cruz and Donald Trump is becoming increasingly personal, with Mr Cruz accusing "sleazy Donald" of spreading rumours.
Mr Cruz told reporters that Mr Trump was behind a story in the National Enquirer that alleged Mr Cruz has had extramarital affairs.
Mr Cruz called the story "garbage, complete and utter lies".
"It is a tabloid smear and it has come from Donald Trump and his henchmen."
As evidence that Mr Trump planted the story, Mr Cruz pointed out that the only person quoted by name in the Enquirer story was Roger Stone, a former top adviser to the Trump campaign.
He also noted that Mr Trump and National Enquirer CEO David Pecker are close friends.
---
Rats, dirty tricks and politics: Tim Swift, BBC News, Washington
Ted Cruz came out swinging on Friday, condemning the Trump campaign in the strongest possible terms. Some of those terms may require additional explanation.
"He is a man for whom a term was coined for copulating with a rodent," Mr Cruz said of Roger Stone, a former Trump adviser. "Well let me be clear, Donald Trump may be a rat, but I have no desire to copulate with him."
What?
Mr Cruz is referring to an obscene rat-themed euphemism for political dirty tricks. Mr Stone is credited with coining the phrase.
Mr Stone got his start in politics working for President Richard Nixon. He later lost a position with Senator Bob Dole after a newspaper columnist named him as one of Nixon's "dirty tricksters". Such tricks included ordering hundreds of pizzas to be delivered to rival campaigns, cancelling opponents' rallies, and engaging in deplorable behaviour while pretending to represent other candidates.
Through the years, Mr Stone worked for various Republican politicians including Ronald Reagan. And he's never shed his reputation for hardball attacks.
In a 2007 profile in the Weekly Standard, Mr Stone was dubbed the "boastful black prince of Republican sleaze".
---
Asked whether he would still support Mr Trump, the current front-runner, if he won the Republican nomination, Mr Cruz did not answer directly.
But the Texas senator said: "I'm not in the habit of supporting people who attack my wife and my family."
"I had absolutely nothing to do with it," Mr Trump said in a statement.
On Tuesday, the candidates, who had been on good terms earlier in the campaign, began trading insults on Twitter.
Mistakenly believing the Cruz campaign had produced an attack advert about his wife Melania, Mr Trump on Twitter threatened to "spill the beans" on Mr Cruz's wife, Heidi.
Mr Cruz responded saying his campaign did not produce the advert, calling Mr Trump "classless" and a "coward".
The next day, Mr Trump continued, posting an unflattering photo of Mrs Cruz on Twitter.
Mr Cruz responded, calling Mr Trump a "snivelling coward" and told him to "leave Heidi the hell alone".