Election results 2019: Conservatives gain Stroud from Labour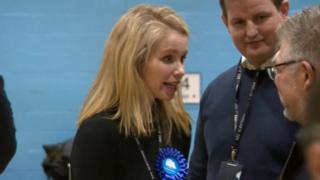 Stroud Conservative candidate Siobhan Baillie has ousted Labour's David Drew, who has lost his seat for the second time.
She secured a 3,840 majority, with Green candidate Molly Scott Cato coming in third position.
Elsewhere in Gloucestershire there were Conservative holds in Forest of Dean, Gloucester, Tewkesbury and Cotswolds.
Cheltenham's Conservative MP Alex Chalk held on to his seat with a majority of 981 over the Lib Dems after a recount.
On becoming Stroud's first ever female MP, Ms Baillie - a former solicitor - said she was "absolutely thrilled" and it was "an honour to win here".
Mr Drew said the campaign had been "dreadful and full of personal attacks".
He said it was "the wrong decision" for the Green candidate Molly Scott Cato to have stood, and "if you had put those votes with our votes we would have won".
Results in full:
Gloucester: Richard Graham (Con) 29,159; Fran Boait (Lab) 18,882; Rebecca Trimnell (Lib Dem) 4,338; Michael Byfield (Green) 1,385.
Cheltenham: Alex Chalk (Con) 28,486; Max Wilkinson (Lib Dem) 27,505; George Penny (Lab) 2,921; George Ridgeon (Monster Raving Loony) 445.
Stroud: Siobhan Baillie (Con) 31,582; David Drew (Lab) 27,742; Molly Scott Cato (Green) 4,954; Desi Latimer (BRX) 1,085; Glenville Gogerly (Libertarian) 567.
Forest of Dean: Mark Harper (Con) 30,680; Di Martin (Lab) 14,811; Chris McFarling (Green) 4,681; Julian Burrett (Ind) 1,303.
Cotswolds: Geoffrey Clifton-Brown (Con) 35,484; Liz Webster (Lib Dem) 15,270; Alan MacKenzie (Lab) 7,110; Sabrina Poole (Green) 3,312.
Tewkesbury: Laurence Robertson (Con) 35,728; Alex Hegenbarth (Lib Dem) 13,318; Lara Chaplin (Lab) 9,310; Cate Cody (Green) 2,784.