General election 2019: No change to Bristol's political make-up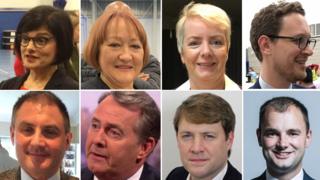 There have been no changes to the political landscape of Bristol.
Labour held on to inner Bristol with wins for Kerry McCarthy in Bristol East, Darren Jones in Bristol North West, Karin Smyth in Bristol South, and Thangam Debbonaire in Bristol West.
For the Tories, the former Secretary of State for International Trade Liam Fox was returned to Somerset North.
Jack Lopresti, Luke Hall, and Chris Skidmore held on to Filton & Bradley Stoke, Thornbury & Yate, and Kingswood.
In Filton, Mr Lopresti polled 26,293 votes, ahead of Labour's Mhairi Threlfall with 20,697.
"I believe this is the highest number of votes I have ever had and I am very honoured that they have asked me to serve this great constituency for the fourth time," he said.
"I think the British people wanted clarity, they wanted a government with a majority for stability and clearly to deliver Brexit."
Speaking of the national picture Ms Smyth said it was "not the result we were hoping for".
"I'm disappointed because on a human side I'm going to be losing a lot of colleagues and it makes the job we're trying to do that much harder," she said.
Results in full:
Bristol East: Kerry McCarthy (Lab) 27,717; Sarah Codling (Con) 16,923; Nicholas Coombes (Lib Dem) 3,527; Conan Connolly (Green) 2,106; Tim Page (BRX) 1,881.
Bristol North West: Darren Jones (Lab) 27,330; Mark Weston (Con) 21,638; Chris Coleman (Lib Dem) 4,940; Heather Mack (Green) 1,977.
Bristol South: Karin Smyth (Lab) 27,895; Richard Morgan (Con) 18,036; Andrew Brown (Lib Dem) 4,227; Tony Dyer (Green) 2,713; Robert de Vito Boutin (BRX) 2,325.
Bristol West: Thangam Debbonaire (Lab) 47,028; Carla Denyer (Green) 18,809; Suria Aujla (Con) 8,822; Neil Hipkiss (BRX) 869.
Somerset North: Liam Fox (Con) 32,801; Hannah Young (Lab) 15,265; Ashley Cartman (Lib Dem) 11,051; Phil Neve (Green) 2,938.
Filton & Bradley Stoke: Jack Lopresti (Con) 26,293; Mhairi Threlfall (Lab) 20,647; Louise Harris (Lib Dem) 4,992.
Thornbury & Yate: Luke Hall (Con) 30,202; Claire Young (Lib Dem) 17,833; Rob Logan (Lab) 4,208.
Kingswood: Chris Skidmore (Con) 27,712; Nicola Bowden-Jones (Lab) 16,492; Dine Romero (Lib Dem) 3,421; Joseph Evans (Green) 1,200; Angelika Cowell (Animal Welfare Party) 489.