Election results 2019: North Yorkshire remains Tory stronghold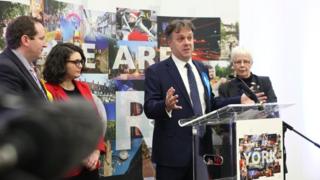 North Yorkshire remains a Conservative stronghold after seven of the county's eight seats were held by the Conservatives, and one by Labour.
Labour's Rachael Maskell retained York Central, with a slightly reduced majority of 13,545.
Northern Ireland Secretary Julian Smith retained his Skipton and Ripon seat with a 23,694 majority.
Rishi Sunak, Chief Secretary to the Treasury, was comfortably returned in Richmond with a majority of 27,210.
He said: "It obviously feels good, it's nice to have a strong vote of confidence, and obviously people have had a chance to get to know me now over the past four and a bit years since I've been here.
"It is a strong endorsement of the prime minister's agenda for the country, get Brexit done, move on and focus on everything else that the people want us to."
Harrogate and Knaresborough was the first to declare, with Conservative Andrew Jones retaining his seat, which had been targeted by the Liberal Democrats.
Their candidate Judith Rogerson increased the share of the vote by 12.2% but it was not enough to defeat the Tories.
Scarborough and Whitby declared just after 03:00 GMT, with Robert Goodwill holding his seat for the Conservatives with an increased majority of about 7,000 votes.
Conservative Julian Sturdy held York Outer, promising in his victory speech to make sure the city got its fair share of government money.
He tweeted: "Tonight has been a great night for the Conservative Party across the country, with voters backing our message of delivering Brexit and focussing on our shared priorities."
He won with a majority of 9,985 over Labour's Anna Perrett, who tweeted: "It has been humbling to get to know my community better as the Labour candidate for York Outer. Thank you to everyone who voted for change. It may not have happened yet, but it will come."
Andrew Jones, who was returned for the Conservatives in Harrogate and Knaresborough, said the national result echoed what he had heard from voters during the campaign.
Conservative Kevin Hollinrake held Thirsk and Malton with an increased majority, in the last constituency to be declared in the county.
Writing on Twitter he said: "Lots to do, starting with Brexit, investing more in public services and in the north of England, but delighted to have been given the opportunity to get it all done."
Use the form below to send us your questions and we could be in touch.
In some cases your question will be published, displaying your name and location as you provide it, unless you state otherwise. Your contact details will never be published. Please ensure you have read the terms and conditions.