General election 2019: Labour seats fall in South Yorkshire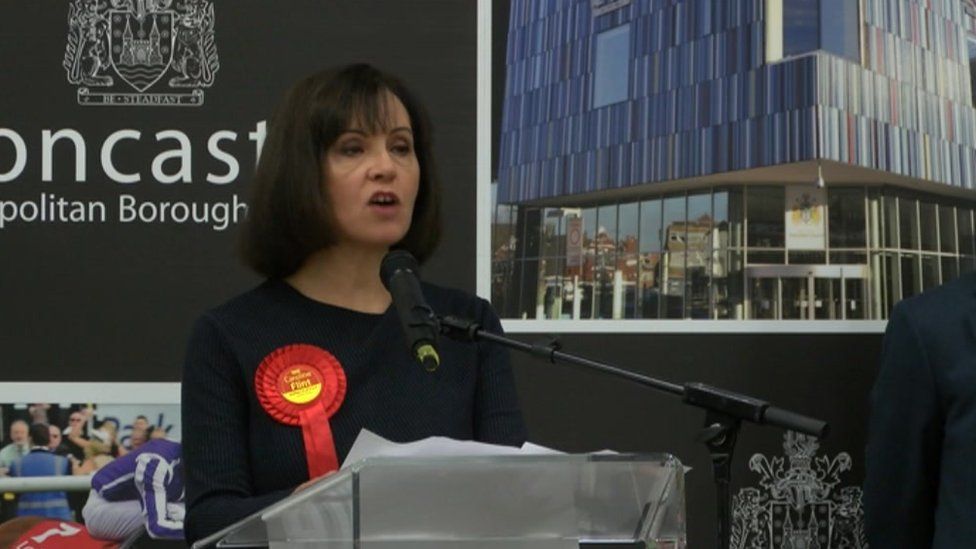 Jeremy Corbyn has been blasted by a Labour MP who lost her seat as parts of South Yorkshire went Conservative for the first time.
Caroline Flint also criticised Labour's stance on Brexit after she was rejected by voters in Don Valley after 22 years as their MP.
The Conservatives also took Rother Valley and Penistone and Stocksbridge.
Labour held seats in Sheffield, Barnsley and Doncaster with significantly reduced majorities.
Ms Flint, who had represented the seat since 1997, was one of a number of Labour MPs from leave-voting seats who criticised the leadership for its stance on Brexit.
After her defeat she said: "Keeping my integrity intact, as an MP who kept my promises to my voters on Brexit. Win or lose, I would not change that.
"Tonight is a sad night, but shed no tears on my behalf - defeat is in some respects a blessed relief, respite from what is a miserable period in politics.   
"To those voters who backed us, I'm sorry that our party did not offer you the Labour Party you felt you can trust. 
"And to those influential Labour figures, living in North London postcodes, who have brought us to this point, I remind them that Labour cannot simply be a party of big cities and university towns, nor just the party of the young or devoted remainers. 
"We must be a party close to working class people because what is the point of the Labour party if we don't respect and represent those voices?
"The people we haven't listened to or respected enough - it is self evident in Doncaster and across the country that long-standing Labour voters rejected our candidate for Prime Minister and the politics that surround him."
Ms Flint was beaten by Nick Fletcher who became the first Conservative MP for the Don Valley constituency, securing 19,609 votes to her 15,979.
Mr Fletcher described his victory as a "historic occasion" and a "miracle".
"This seat has been a Labour seat since 1922," he said. "This is the most humbling experience and I'm honoured to be given this opportunity.
"My thanks also go to God and the people who prayed for me - I know some people don't believe but I do. If you want to see a miracle, look no further than here now."
In Barnsley East and Barnsley Central the Brexit Party performed well, taking second place in both seats.
Dan Jarvis, who held off a challenge from the Brexit Party to retain Barnsley Central, said it had been a "dismal night" for Labour.
"Over the past few weeks, I've had countless conversations with too many people who've expressed concerns and in some cases anger in a Labour Party that they think no longer speaks for them," he said.
"We have to listen to those concerns and work to regain the trust where it's been lost."
Former Labour leader Ed Miliband held Doncaster North but had his majority slashed from 14,000 in 2017 to under 3,000.
Doncaster Central's Rosie Winterton also took no questions and was ushered into a side room flanked by her campaign staff. 
If you cannot see the graphic above, click here.
By James Vincent, BBC Yorkshire Political Editor
The ballot boxes and tables have been put away at the Leeds Arena ready for tonight's gig, a nostalgia night called We Love the Nineties.
Yorkshire Labour supporters might be forgiven for desperately hoping they could go back to victories like 1997.
Saying Labour did badly here doesn't really cut it.
People in parts of Rotherham and Doncaster now have a Conservative MP for the first time in their constituency's history.
The West Yorkshire seats we talk about being an indication of the national election picture were always going to be tough. Four of them went.
But further south three more communities kicked Labour out.
Rother Valley is made of former mining villages - it had been Labour since 1918.
Don Valley surrounds the town where railway workers created the Labour movement.
Half of Penistone and Stocksbridge only exists because it was formed around the steelworks.
These were Labour areas. But not anymore.
This Brexit election turned things around.
The view here on the Labour leadership also made the party feel less connected to its roots.
The 12 December election returned results on a Friday the 13th that the party will never forget.
Use the form below to send us your questions and we could be in touch.
In some cases your question will be published, displaying your name and location as you provide it, unless you state otherwise. Your contact details will never be published. Please ensure you have read the terms and conditions.
If you are reading this page on the BBC News app, you will need to visit the mobile version of the BBC website to submit your question on this topic.