General Election 2019: Merseyside bucks national trend with Labour wins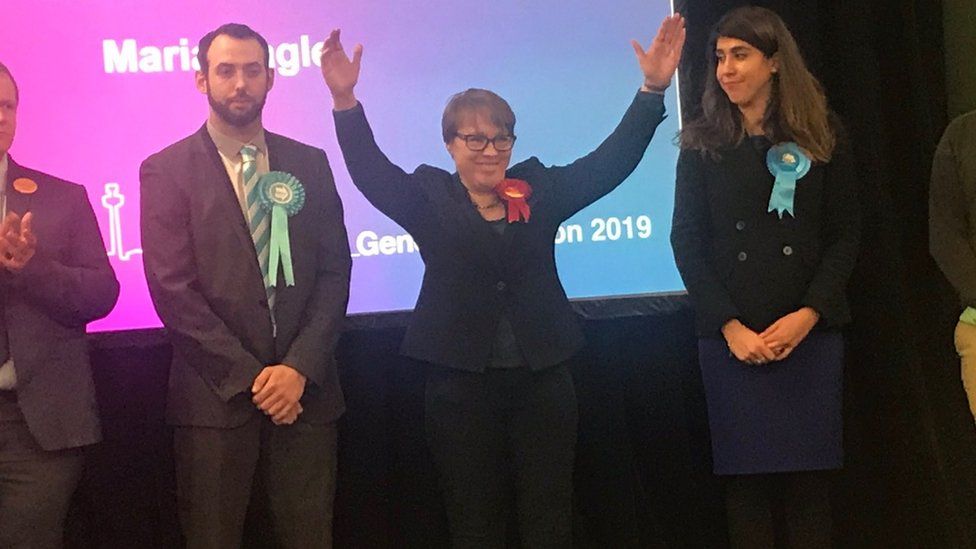 Merseyside bucked the national trend on general election night, with Labour retaining all of its 14 seats.
Despite the Conservatives gaining in many Labour heartlands, seats including Birkenhead, Bootle, Knowsley, and Sefton Central remained red.
Tory Damien Moore was re-elected in Southport with an increased majority.
"We have won this election fighting a positive campaign, delivering locally and having a strong message that we need to get Brexit done," he said.
Mr Moore thanked the Brexit Party for ultimately declining to contest the seat, saying their candidate "threw his substantial support behind me.
"I don't know how people voted on every issue but what I do know is that the positive message that we sent out certainly has seen us over the line and winning with an increased majority in Southport," he said.
The area as a whole remained strongly pro-Labour, however, due to a local history and culture that sets it apart from the rest of England, said Jon Tonge of Liverpool University.
"It's the socialist republic of Liverpool. The citadel. It's Corbynista-land," said Professor Tonge.
"It's a city which many of its inhabitants feel has been unfairly neglected. Scousers would say the city has been mistreated under various Conservative governments."
The legacy of the Hillsborough disaster, the loss of the region's industry and the recent impact of government cuts have all contributed to this, he said.
"The Conservatives are almost an endangered species in Liverpool. It's not the council that is blamed for cuts, it's central government."
Maria Eagle, the returning Labour MP for Garston and Halewood, said "we have to ask ourselves as a party some extremely serious questions," following the election result.
"Obviously, the national picture is looking very difficult and we're going to have to see quite where that ends up but we've already lost some excellent colleagues to big swings and so it's not looking good for us," she said.
Kim Johnson, who became Liverpool's first black MP, representing the city's Riverside constituency, said she was now looking forward to taking a "socialist voice" to Westminster.
"Westminster wasn't designed for people like me, a working-class black woman from Liverpool," she said.
"It was designed to intimidate, to exclude and keep us out, but the 1% aren't going to do that and you won't know what's hit you when we get there."
Veteran MP Frank Field, who resigned the Labour whip last year, lost his seat in Birkenhead after more than 40 years as an MP.
Mr Field decided to defend his seat as the Birkenhead Social Justice Party candidate after quitting Labour, saying it had become "a force for anti-Semitism".
After losing his seat, he thanked "those voters who over 42 years have given [him] the huge privilege of representing Birkenhead in the House of Commons".
"My debt to them is unlimited," he added.
"We know perfectly well within the parliamentary Labour party there are a number of shadow [members] who, had they been leading the party, some of you would have been celebrating a Labour government."
A huge congratulations to all our newly elected and returning MPs! So proud of Liverpool for standing in solidarity with each other in the face of right-wing austerity. We're lucky to have such a good group of MPs standing up for our city #ScouseInTheHouse pic.twitter.com/Hp7FdUcMyc

— Joe Anderson (@mayor_anderson) December 13, 2019
Labour candidate Mick Whitley was voted in as the MP for Birkenhead with 24,990 votes while Mr Field received 7,285 votes.
Analysis by Claire Hamilton, Merseyside political reporter
"Scouse not English" is a phrase familiar from the football terraces.
But away from Anfield or Goodison there is a sense that Liverpool is exceptional, stands alone and apart from the rest of the country, and its politics is no different.
Here, the sense of loyalty to Labour and dislike of the Conservatives is historic and deep-rooted in a way perhaps it isn't in other post-industrial places.
The notion that a Conservative cabinet minister (the then Chancellor Sir Geoffrey Howe) suggested to Margaret Thatcher that Liverpool be allowed to slip into "managed decline" has taken root; how dare the demise of this great city be encouraged?
It's a them-and us-attitude, which has deepened and been mythologised for decades.
Merseyside broadly voted 50:50 in the EU referendum, with Liverpool voting to remain by 58% (the Riverside Constituency is likely to have voted 73% remain) - but St Helens voted to leave by the same percentage.
Yet neither of the town's two Labour MPs saw a genuine threat from any other party.
So Labour's Brexit position didn't put off voters here the same way it did in other places.
Talking to people in St Helens, the feeling was that the Conservative government didn't care about the town, its regeneration or its future.
I think this is down to an entrenched anti-Conservative feeling which has grown stronger over generations. Leave voters here simply couldn't bring themselves to vote Tory.