General election 2019: Tories take five Labour heartland seats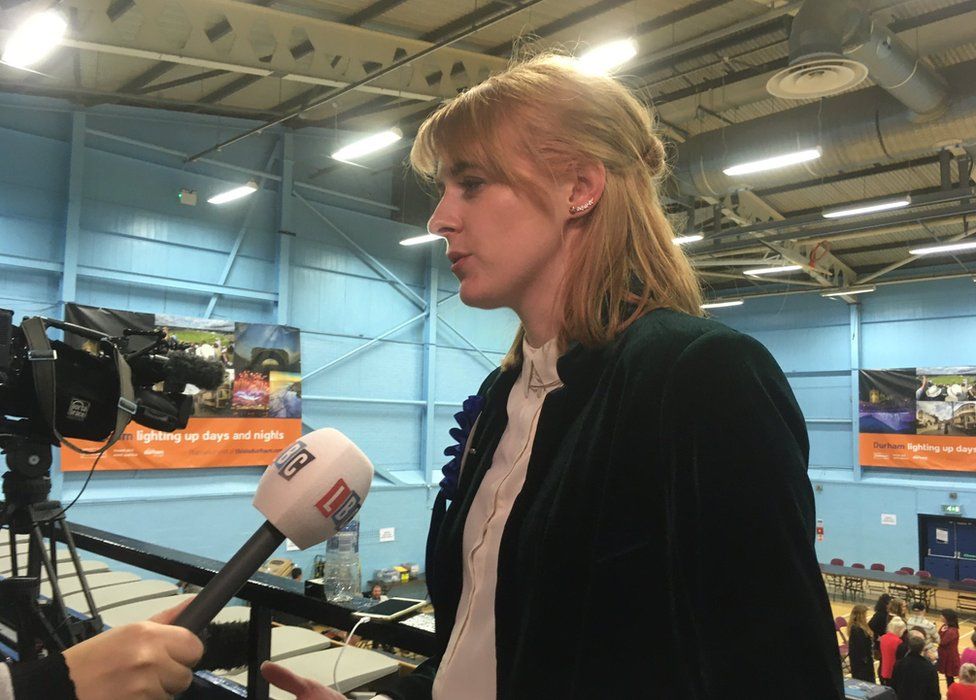 The Conservatives have taken five key constituencies in the North East, including Tony Blair's former Sedgefield seat.
Redcar, which had a swing of more than 15%, Darlington, Stockton South and Bishop Auckland were also taken by the Tories.
Labour retained Middlesbrough and Stockton North, with reduced majorities.
It also held Hartlepool, which was one of the Brexit Party's main targets.
In Redcar, Jacob Young beat Labour's Anna Turley with what was, briefly, a record-breaking Labour-Conservative swing of 15.5%.
It was overtaken two hours later when Bassetlaw shifted by 18%.
Mr Young said he wanted to regenerate Redcar with "new green jobs, carbon capture and storage, wind farm and focusing on investment in transport".
"There's a lot of things that we want to do here and, now that we've got a Conservative majority government, we can finally deliver some of them," he said.
Both Bishop Auckland and Sedgefield had been held by Labour since 1935, when they were created.
Conservative Paul Howell took the Sedgefield seat from Labour's Phil Wilson by more than 4,500 votes.
The constituency was previously represented by Tony Blair, who became leader of the Labour Party in 1994 and prime minister in 1997. He resigned from his posts in 2007.
In a tweet, Mr Wilson said Jeremy Corbyn's leadership was a "bigger problem" than Brexit. "To say otherwise is delusional", he added.
He said: "The party's leadership went down like a lead balloon on the doorstep. Labour's leadership needs to take responsibility."
Bishop Auckland was high on the Conservative target list as it voted to leave the EU in the 2016 referendum by a healthy majority, and Labour's Helen Goodman supported remain.
With 16,105 votes she was beaten by Dehenna Davison, who got 24,067.
Redcar was a surprise Tory win, where Mr Young's 18,811 votes beat Ms Turley's result by more than 3,500.
In Stockton South, Conservative Matt Vickers gained 27,764 votes, beating Dr Paul Williams by more than 5,000 votes.
He vowed to "drag money back to Teesside" from Westminster to bolster public services.
"I'm going to be banging the drum...to drag cash back from the government for here and this region."
For @UKLabour leadership to blame Brexit for the result is mendacious nonsense. Jeremy Corbyn's leadership was a bigger problem. To say otherwise is delusional. The Party's leadership went down like a lead balloon on the doorstep. Labour's leadership needs to take responsibility.

— Vote Phil Wilson for Sedgefield Dec 2019 (@VotePhilWilson) December 12, 2019
In neighbouring Stockton North, Labour's Alex Cunningham saw his 2017 majority of 8,715 slashed to just over 1,000.
He called on Jeremy Corbyn to make way after two election defeats, but urged him to "stay on" until a new head was found. 
The Brexit Party had viewed Hartlepool as its most winnable seat, and put up chairman Richard Tice as a candidate.
In the end the party came a close third behind the Conservatives.
Speaking after the result, Mr Tice said: "We have changed politics in this country. We will make sure the Tories do what they say and get Brexit done."
In Darlington, Peter Gibson beat Labour's shadow Brexit spokeswoman Jenny Chapman by 3,294 votes. The seat had held by Labour since 1992.
He put his victory down to "people wanting to see Brexit getting done".
"We've now completed the Tory hat-trick in Darlington - a Conservative MP, a Conservative council, and a Conservative Tees Valley Mayor," he said.
In Middlesbrough, Labour's shadow transport secretary Andy McDonald beat Conservative Ruth Betson by 8,390 votes, 5,483 votes less than the majority at the 2017 election.
By Richard Moss, BBC Look North Political Editor
The North East has seen the equivalent of a political earthquake.
The region has not seen as many seats change hands in one election in living memory.
Margaret Thatcher never had as many MPs in this region as Boris Johnson will have. Some now represent constituencies we were told would never vote Conservative.
Communities built on the steel industry, like Consett and Redcar, and former mining areas like Blyth Valley and Bishop Auckland have placed their trust in the Tories.
The Labour Party chairman Ian Lavery, a former miner, survived by the skin of his teeth in Wansbeck. Laura Pidcock, a Corbynite who could have been in the running to be the next Labour leader, saw North West Durham's voters reject her.
"Get Brexit Done" certainly resonated. The gains were all in leave-voting seats which seem to have blamed Labour for the parliamentary deadlock.
But Labour candidates will tell you that Jeremy Corbyn was a bigger issue on the doorstep - not a man many of their voters wanted anywhere near Number 10.
But there are dangers. Economists suggest it's the North East that will suffer the most economic harm from leaving the European Union.
And just talking about the idea of a Northern Powerhouse will no longer be enough.
Constituents of these new Conservative MPs will expect them and their party to deliver Brexit, but also more investment in the North.